Main Sections
Front Page
Sports
Valley Vitals
It's in the Stars
Starwise
Archives
Links
About The Voice
Contact Us
Middlebrook Friesian Farm: Where Farm Family & Friesians Come Together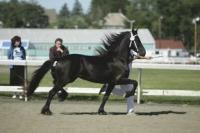 photo provided

Gliding around the show ring, this Middlebrook Friesian showcases the goals of the Deboer family, which is staying true to the magnificent heritage of the breed and breeding sport horses geared to meet the needs of the family or owner.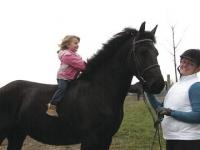 photo provided

Four Year old Mariska (Jan and Tinie's granddaughter) sitting astride three year old Middlebrook Friesian Elbert
Tuesday December 25, 2012
By Cookie Steponaitis
There are three addictions in Jan Deboer's life that he simply cannot live without and are in order: family, farming and Friesians. Growing up a part of a farming family of seventeen children in the Netherlands, Jan simply cannot speak of a time in his life where farms, animals and the land were not a part of his world. He gained from his mother what he jokingly termed, "an early addiction to horses," and watched many of his neighbors use them for work and in competition. His dad's friend who lived in town used a horse to collect compost from all the neighboring farms. When the tried and true Friesian he owned died, the farmer purchased younger stock to replace him. Young, fractious, and full of spirit this younger horse seemed not suited for pulling the wagon and would complete acrobatics whether it was a mailbox, a change in the wind or any other distraction. The neighbor brought him to Jan's farm and asked if they would hook him up and use him for farm work for a day to help calm him down a bit. Blacky the Friesian galloped around the entire farm four times before he showed any interest in tiring or calming down at all, but for twelve year old Jan a lifelong passion began.

Jan's family had to have a tractor for farm work and the horse quickly became an animal that no longer had a working place on the farm. Jan came to America on a student visa in 1962-1963 and worked on farms in Orange County, New York and came to the Champlain Valley to look at farms. "At that time," shared Jan, "there was advertising going on looking for farmers to come to this region," and on July 8, 1979, Jan DeBoer came to America again and this time stayed. Putting down roots and raising his family, he and wife Tinie raised children Cristy (37), Joris (34), Annmarie (33) and Hans (29) and all five of their grandchildren to love the land, animals and to work with both to achieve their goals. While Annmarie's path led her to college for Dairy Production and Management, her careers have included managing herds, breeding cows, plumbing, truck driving, meat processing and more but her heart and mind were never far from the land, animals and family. Coming home to Vermont, Annmarie and father Jan are one of few father/daughter teams paired both in the running of the farm and the breeding, training and sales of Friesian horses.

Never forgetting his passion for the Friesians, Jan went to the Netherlands and in 2004 came back with the first two Friesians that would call the South Middlebrook Farm in Waltham, Vermont home. 2006 saw two more join the farm and currently there are seven Friesians waiting to show the neighbor, horse enthusiast or prospective owner what makes Friesians a breed apart. "They are gentle and easy going animals," shared Jan. "They adjust to the person and respond to what they are looking for in a horse. They thrive on attention and they seek attention from people. They thrive and shine." A distinctive breed, Friesians are recognizable with their powerful muscles, elegant action, thick mane and tail and feathering on their feet. They have a presence about them and carry themselves proudly and with elegance.

Originating in Friesland, Netherlands, this special breed historically were war horses in the Middle Ages and are used both nationally and by the Deboers under saddle and in harness. Middlebrook Friesians in addition to dressage and driving classes have already begun to earn their place on the New England Show Circuit and most importantly in the hearts and minds of locals and enthusiasts alike. "When I was showing Romy this summer," remarked Annmarie, "she continued to demonstrate the best qualities of the breed, not only in her ring work, but her adaptability to new situations and places. When we first arrive she would be very restless and even edgy. Within one day she is on her game, settled and floating in the ring."

For those who think a horse cannot float, stop by the Deboer farm some afternoon or contact Jan or Annmarie at (802) 877-3260 and see Feitze, Heiner, Jelmer, Maja, and Neeltje being ridden, driven or worked. Whether sitting patiently with a child on their back or in full harness or costumed for the ring, the Middlebrook Friesians will enchant you and demonstrate why the breed has earned such fierce loyalty around the Netherlands and most recently in growing numbers in America.

"I traveled with Peter Langrock to an auction in the Netherlands," shared Jan Deboer. "We watched a stallion in the ring that I had seen years before as a young horse. Now seventeen years old, he shook his head, took his place in the ring and moved at a trot that made both of us emotional. It was simply beautiful to watch him float around the ring. To this day, that horse moves me."
Middlebrook Friesan Farm is more than a place to see horses. It is a family business rooted in generations of working with the land and the animals.bIt is a father/daughter partnership where Holsteins and Friesians are more than a source of income. They are a source of pride and an addiction that with any luck will pass to generation three of a wonderful farm family that proudly calls Addison County home.


---
Advertisements
Search our Archives