Main Sections
Front Page
Sports
Valley Vitals
It's in the Stars
Starwise
Archives
Links
About The Voice
Contact Us
New Head Coach Mary Nienow Takes the Helm for MUHS Girl's Varsity Basketball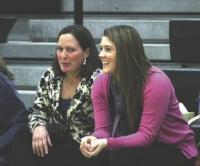 photo by Marcie Bolton

Coach Emilo (L) and Coach Nienow (R) watching their team play.
Tuesday December 4, 2012
By Marcie Bolton
The start of the Lady Tigers high school basketball season is almost here, and the Middlebury Union High School varsity girl's team is excited about getting back on the court.

They will take the court for the first time on Wednesday, December 5, at 5:30 p.m., when they host Fort Ty in a preseason scrimmage.

Heading the varsity team this year is Mary Nienow, a former Lady Tiger, and a 2005 graduate. Mary says, "I am very excited to be in charge of the Women's basketball program at the high school. It has been such an important part of my life and when I saw the opportunity, I had to take it."
Nienow started playing basketball in the second grade and she made varsity as a freshman and played all four years for longtime former head coach Cindy Atkins. "[Under Coach Atkins at MUHS] in 2004 we were the first team to win a Division 1 championship." After playing at the high school level Mary went on to play ball in Vermont, "I played all four years at Castleton State College, and also won the [North Atlantic Conference] my senior year and scored over 1,000 points. Both experiences were very successful."

Mary has coached 2 years at the middle school level, and also Green Mountain Magic AAU (12-13 year olds). She assisted Cindy Atkins last year on Varsity along with Laura Emilo. Mary informs us that Emilo will return as assistant varsity coach, "Laura also played four years on Varsity at MUHS and graduated in 2003. We work well as a pair."

The Tigers lost some players from last year, According to Coach Nienow, "We lost 5 seniors which is definitely going to hurt us this year. I know that we will be developing a lot of young players. Laura and I plan to try some new strategies this year. It is a new group of girls which means we have to see what strategies work best with this group of girls. Our goal is just to be competitive during every contest. Work together, play hard, and play smart. I am very much looking forward to starting the season." Good Luck Lady Tigers!


---
Advertisements
Search our Archives