Main Sections
Front Page
Sports
Valley Vitals
It's in the Stars
Starwise
Archives
Links
About The Voice
Contact Us
Traveling the State and Reaching Out to Teens: Meet Caroline Jones Miss Vermont Outstanding Teen 2012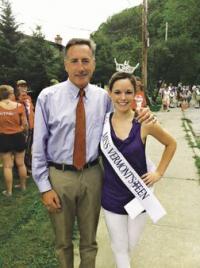 photo provided

Caroline with Governor Shumlin at the Independence Day parade in Montpelier
Tuesday October 23, 2012
By Cookie Steponaitis
Caroline Jones is currently a junior at Champlain Valley Union High School with hopes of a career in the humanities, social sciences and a focus in public policy and foreign relations, and like many other teens had no plans on entering a scholarship program due to the negative stereotypes associated with them. After hearing about the program from her mom who interviewed the 2010 titleholders for public access TV, Caroline was intrigued to hear comments about the intelligence, poise and public speaking skills the teens possessed. After attending one workshop with the Miss Vermont Scholarship Program, both mom and daughter were not only convinced but were asking where to sign up.

A three time junior Olympic fencer, Caroline was no stranger to challenges or setting goals. Caroline found that demonstrating her talents at the local, state and then national stage was one of the most fun experiences of her career. "Having the opportunity to display something I put so much effort into on a national stage was one of the most incredible and rewarding experiences I can imagine. In addition to the performing, one of the greatest parts of the Miss America Outstanding Teen Program was meeting my best friend Haley, Miss Tennessee's Outstanding Teen."

Winning the title of Miss Vermont's Outstanding Teen 2012 has opened many new doorways for Caroline and taken her to the four corners of the state and the national Miss America stage in Orlando, Florida. Her personal platform of getting teenagers more involved in community service has taken her to every nook and cranny in the Green Mountain State where the idea of commitment and service to others is deeply rooted. During her meetings with teens and groups around the state, Caroline promotes the benefits of being involved and relates, "I believe we will be a stronger state through building stronger communities. The more people we have working together to achieve a greater good the better. I want to work with Rotary organizations and other service-centered programs around Vermont, as well as going out with teens to participate in projects around the state. My hope is to get more people my age enthusiastic about civic involvement!"

With a mantra of " Keep your heart on fire," Caroline is on the road and the web bringing the message of Miss Vermont Outstanding Teen and the four points of the crown- service, scholarship, style and success to groups both large and small. "The Miss Vermont Outstanding Teen Organization is not a beauty pageant and the girls who participate are in no way judged on the way they look," commented Caroline. "The programs I went through in preparation for the state and national competitions involved a series of workshops that helped enhance poise, presentation and professional interview skills, social networking ability and perhaps most importantly self-confidence." Teens interested are encouraged to go to the Miss Vermont website at www.missvermont.org.
---
Advertisements
Search our Archives