Main Sections
Front Page
Sports
Valley Vitals
It's in the Stars
Starwise
Archives
Links
About The Voice
Contact Us
Middlebury Wins Defensive Battle against Colchester 14-0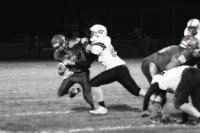 photo provided
Tuesday October 16, 2012
By Marcie Bolton
There was very little offensive production from both the Lakers and the Tigers this past Friday up in Colchester as it was not until late in the fourth quarter that any points were put up on the board. Colchester was close to score a couple of times in the first half, but to no avail. At the half neither team broke 100 yards rushing, while Tyler Provencher completed 5 of his eleven passing attempts.

Taylor Patterson, Middlebury's senior offensive guard, commented, "We just wanted to hang on to the ball because we have been fumbling a lot. We wanted to keep [Bobby Brigante] in the pocket. " And the Tiger's did just that while their defense completed their mission holding the Lakers back and scoreless. The action really did not start until late in the fourth with 5:42 left on the clock when Mitchell Clarke ran it in for a 29 yard touchdown score. The PAT was good making the score 7-0. With the game basically locked up by Middlebury, Tyler Provencher, Middlebury's senior quarterback, carried it in for the second touchdown play with only 17 seconds left on the clock. He was a key component in helping the Tigers win against the Colchester Lakers on a cold fall evening.

Hartford 27, Burlington 14
Rutland 49, Mount Anthony 13
Middlebury 14, Colchester 0
BFA-St. Albans 28, Essex 26
Milton 19, U-32 13
Bellows Falls 28, Lyndon 14
Woodstock 53, North Country 0

Next Friday night will be Senior Night at Doc Collins field as the Tigers have their last regular season game against Champlain Valley Union at 7pm October 19.
---
Advertisements
Search our Archives