Investigation Continues After Police Shoot Out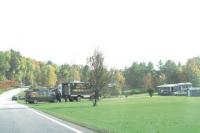 photo provided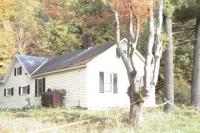 photo provided
Tuesday October 9, 2012
At a new conference Middlebury Police Chief Thomas Hanley explained in details how six of his officers were confronted by an armed resident who appeared determined to draw them into a fire-fight behind his home on Vermont Route 116 near the Middlebury/Bristol town line.

George Demarais, 57, a former Corrections Officer and a man troubled with past mental health issues called authorities and indicated that he wanted to confront them and die by their hands Thursday afternoon, October 4th 2012. His 911 call earlier in the day mentioned "death by cop".
Police arrived on scene and waited several hours before they were confronted by Demarais. He ultimately shot at them after being asked to lay down his weapon. Demarais went into the woods behind his home. There he had constructed a potential ambush site with a clear field of fire and was able to conceal himself in a fixed fortification complete with supplies, additional weapons, and ammunition, according to the Chief.

Prior to this, Demarais had taped his will on the door of his home and left a threating note on his car.. Police were able to flank Demarais' position and an exchange of gunfire ensued lasting about forty minutes. Police continued to urge the man to give up his weapons and surrender. He would not stop and continued to fire at the officers.

When officers experienced a lull in the shooting from his position, they carefully advanced and found George Demarais dead. He had suffered a fatal gun shot wound. It could not be determined if Demarais was killed by a police officer's service weapon or by one of his own firearms. That fact is being examined during the on-going investigation by Vermont State Police.

Middlebury Police Officers had to work quickly as darkness was fast approaching when the armed man moved from the front of his house to his bunker in the woods behind the residence.

Throughout the incident Middlebury Police were in communication with mental health councilors who were attempting to contact Demarais, Chief Hanley explained during his press briefing after the incident. Middlebury Volunteer Firefighters closed Route 116 during the incident.
The Addison County States Attorney and the Vermont Attorney General's Office will be part of the continuing investigation. No Middlebury Police Officers were reported injured during the shoot-out.


---