Main Sections
Front Page
Sports
Valley Vitals
It's in the Stars
Starwise
Archives
Links
About The Voice
Contact Us
Celebrating 40 Years As Town Clerk Addison Salutes Jane Grace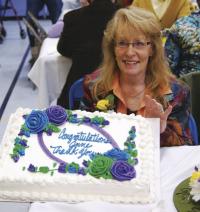 photo provided

Called the "gateway of Addison", Jane Grace and her office see every kind of question under the sun! Never a dull moment for a Vermont town clerk!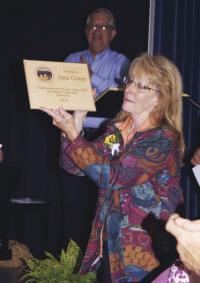 photo provided

After forty plus years on the job, Addison Town Clerk Jane Grace bids farewell to her position at a celebration attended by over 200 local people and friends.
Tuesday October 9, 2012
By Julie Grace
Imagine the Addison central school gym with rows of tables draped with white tablecloths and fresh flower arrangements. On September 29, 2012 the town of Addison held a retirement party for Jane Grace, their beloved town clerk of 40 years (or more). It is estimated that over 200 people come to wish Jane a happy retirement, and to have a good meal. The Addison Fire Department cooked. As this reporter heard people say, "They really know how to put on a great meal!" After everyone ate there were speeches to be heard. The selectmen declared that September 29th will be Jance Grace Day and funny stories were told by friends and family.

Representative Diane Lanpher and Senator Claire Ayers talked about Jane and her involvement with the community. Representative Lanpher remarked that she first met Jane when she decided to run for office, and commented, "Jane has been an anchor for this community and she was very helpful when I was running for the first time. It was really nice to have someone you could call and not not get a simple answer to your question." Representative Lanpher added, "That it was very helpful to have Jane during the bridge ordeal. She helped keep the town together."

When this reporter talked to Senator Claire Ayers she got a different side of what Town Clerk does. Senator Ayers did not meet Jane as a political person the way Representative Lanpher did. She and her husband bought land in Addison and were building a house. Senator Ayres described Jane as being very professional and helpful. "Jane is the front door to Addison." Senator Ayres declared, "and what a wonderful front door she was. Jane gave so much to the Addison community and deserves retirement. She will be missed but it is time for her to relax and enjoy the community she helped build. Happy Retirement!

While she will no longer be in the Town Clerk's office, Jane is devoted to her family, her grandchildren and her town. You can expect to see her here and there, talking to people, supporting new ventures and sharing with anyone who asks the historic and special qualities that make life in a small Vermont town worth it. The Valley Voice salutes Jane and has an inside scoop on just how exciting retirement looks, because this reporter happens to be her grand-daughter.


---
Advertisements
Search our Archives