Main Sections
Front Page
Sports
Valley Vitals
It's in the Stars
Starwise
Archives
Links
About The Voice
Contact Us
Parent Educator Vicki Hoefle Guest Speaker at MUHS Freshman Parent Event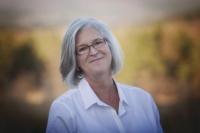 photo provided
Tuesday October 2, 2012
By Marcie Bolton
Middlebury Union High School recently hosted Vicki Hoefle, as the guest speaker at MUHS's 9th grade parent information night. Many parents attended the barbecue and lecture by Hoefle which included topics ranging from tips for parenting through encouragement not control, supporting autonomy and individualism, and respecting teens entering their new high school stratosphere.

Hoefle's sage advice on parenting kids beginning high school came through the tune of wit and warmth and addressed questions parents seemed to have on their mind; Why listening is the trump card over control, valuing teenage snarkiness and sass, and the worth of making decisions with a teen versus making all of their choices for them. Hoefle discussed how sending kids to high school is a very exciting time in a young person's life, -not much different in theory to sending them off to kindergarten and how being there for your child during this transitional time is so central. Vicki messaged this to parents in a modern no nonsense style as she encouraged parents to greet teenagers with enthusiasm and love even when they are snarky and have a bit of attitude. While so often teen's texting is seen as detrimental and all consuming, it is also a useful tool to start a path of communication with kids today. It is an entrance to a conversation which parents and their children may carry on later in person –simple yet effective. Kids may be encouraged with support through these amazing years without too much fighting and worry.
Vicki had many overall positive messages and topics which aimed to support instead of clamp down on the ever independence seeking high school students.Healthy teen parenting involves the support of ideas and allowing a child to be who they are while not exercising too much control but rather keen guidance. One important piece of advice Vicki gave was when she asked parents to resist the temptation to provide unsolicited advice. Allowing your teen safe boundaries at home while they make mistakes and experiment with their own voice helps them become strong-decision making people.
Vicki talked about a teen's need to trust themselves and develop problem-solving skills for their future. They need to learn to make mistakes and make their own decisions because in four short years these kids will be on their own. Vicki does not come off as over preachy and condescending at all, instead she admits to learning through her own mistakes as a parent. It was an interesting talk and people seemed very intrigued. If anyone missed the talk and is interested in finding out more about parenting advice, Vicki recently had a book published, Duct Tape Parenting. She discussed how she came up with the title, "The duct tape reference is the result of my own experience as a young mom when I realized all my dictating tendencies were making life with my children more difficult –not easier. I realized I did a whole lot of talking and nagging and reminding and every time my mouth started going everything went downhill. I decided since I couldn't trust keeping my mouth shut I needed a little bit of help. The easiest thing I could think of was tape. I found a roll of duct tape and tore off a bunch of pieces and put them on the counter…. Every time I was tempted to go back and dictate or nag, all I had to do was peel off a piece of duct tape and slap it over my mouth and the magic and the peace would enter my home- A simple solution to a big problem." I look forward to reading her book having a tween and two teens myself. It is available through many online retailers.
---
Advertisements
Search our Archives