Main Sections
Front Page
Sports
Valley Vitals
It's in the Stars
Starwise
Archives
Links
About The Voice
Contact Us
"We were farm people!" Sharing Memories and Life Lessons with Bea Dike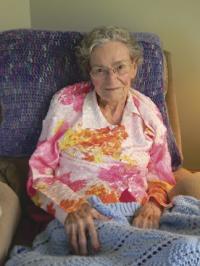 photo provided

Bea Dike takes an upcoming 99th birthday as a matter of fact, but shared her love of farm, family and nature.
Wednesday September 26, 2012
By Cookie Steponaitis
Gently, but firmly taking control of the interview, Bea Dike could find no reason to focus on her upcoming 99th birthday in October as anything of interest. "Why would anyone want to know about that," she declared, "when we have all of this to talk about?" Sitting on a recliner in her glassed-in sun porch, Bea gestured at the grandeur of the fall view of her back yard and family farm fields. Dotted with birch, maple and cedar trees, the lawn boasts numerous bird feeders, humungous pumpkins and the ever present approving glances of her 25 year old cat Goldy. Bea directed attention and focus back on the scene before her. "This is what is important," reflected Bea. "More people should enjoy what nature has to offer and find in the quiet beauty life lessons including peace, not when my next birthday is."

Bea was born in Middlebury, Vermont in 1913, and she and her brother grew up working with and appreciating nature. While her family ran a garage business and repaired cars, her father was also involved in the founding of Foster Motors with partner Edgar Foster, a business with links to the community spanning over fifty years. While automobiles helped put food on the table, it was the small farm and the lessons learned there that Bea carried forward into her own life and has now passed on to four more generations. "We had a small barn with animals," reminisced Bea. "I fed the baby animals and loved any task or chore that kept me out of doors. When I wasn't in school, I was outside."

It was in high school where Bea met her life- long partner Henry Dike, who she married in 1929 when she was just sixteen years old. When asked if Henry caught her attention right away Bea leaned forward in her chair and with a devilish sparkle in her eye remarked, " I thought he was, well, let's just say a hunk of a man and he was pretty special." Asked if she let Henry know it right away, Bea smiled and assured this reporter that proper ladies of the time did not chase men but they simply helped things along until the man thought it was his idea in the first place. Patience was a virtue and she had it.

Bea and Henry's entire married life revolved around farm, family and faith. Driving milk truck and always at work on the family farm, Henry and Bea both took great pride in the 1000 acre Dike farm in Charlotte which the pair purchased with help from milk truck business owner Mr. Robinson. "I remember that we made part of our farm payment in milk," shared Bea, "and we certainly worked hard and stayed busy."

While Americans today love to pride themselves on multi-tasking, tweeting, checking accounts and staying organized all by the touch of a computer screen, Bea looks back at her early years of working and honestly wonders how they did it all with children Ralph, Ron and Roberta to raise. Bea also cooked three meals a day for the family and all the hired men, tended the garden, drove tractor during hay season and prided herself on not having to, "settle for a sandwich," but giving her family fresh food each day. Bea now shrugs her shoulders and simply shakes her head. "We were self-sufficient," she added with a grin. "We didn't go to the store, we had our own vegetables, our own meat, our own milk, and if something broke we fixed it. I guess you could simply say we were farm people."

Fresh from the earth was a phrase that echoed through a lot of Bea's conversations and she shared at length the recipes, produce and products that would annually be found in her root cellar. Granddaughter Selena Poquette, sitting and listening, chimed in with some of her own memories of growing up on the Dike farm where she and her family lived for many years while Ralph Dike managed the property for his parents. "Grandpa Henry was always going to auctions," shared Selena, "and he would come home with trucks and all kinds of unique items. I remember one high chair that he brought home that he got at a railroad auction with caning on the seats. I loved it so much I took it home that night. Grandma told me to bring it right back, but when Grandpa passed away in 1976, it came to be mine because he always felt it was my favorite." Selena went on to share unique pieces of farm art her grandfather would create including chairs made from harrows with springs for the bottom and an old metal tractor seat to sit in, all welded together with precision and a great deal of love. Selena also commented that secretly all the grandchildren knew where to head after school to get the best snacks. Grandma's refrigerator and kitchen was always full of home cooked treats and pizzas and it all was from scratch, so many a school afternoon ended up in grandma's kitchen to recharge and to bask in the smells, love and warmth.

"I'm awfully proud of my family," added Bea Dike. "I can't rightly tell you how many grandchildren, great-grandchildren and great-great grandchildren I have, but I am sure it is a parcel, probably over thirty or forty. Now that I don't get around that much, I am so blessed to have a family that supports me being in my own home and having people with me. Just look at this view. Since I don't have to shovel anymore, this is a window to the four seasons of nature at its most beautiful. I truly am blessed." Glancing around Bea's farm and home, it seemed that the family present felt the same way. Lessons learned from Bea's mother and father was passed to her children and so on. Lessons that included "Be honest. Be on time. Work hard and appreciate what the Lord has given you" echoes in the words of Bea Dike to this day.

"Make sure you tell those young people who are in such a hurry," concluded Bea "and make sure that they need to slow down, or even once a day stop and truly understand the lessons that are present in the beauty of nature around them. It is nature that shows us how to eat, how to grow, how to plant, how to preserve, how to plan and how to appreciate the changes of season and even the passing of time." Goldy the cat raised his head and let out a small purr as if to add conviction to the lesson being taught. Goldy too seems to have the recipe for longevity down as he joined the family over twenty plus years ago when he strolled out of the woods as a kitten and got inside when one grandchild pleaded, "Oh, grandma please let him in." She did and Goldy stayed marking the passing of seasons with his owner, safe, warm and happy with nature's beauty all around. So, when October turns Bea Dike's age to a wondrous 99 years young, don't get too excited because she won't. Instead look out your window, or better yet take a walk, plan next year's garden and bask in Vermont's beauty, farm family traditions and faith in God. That would celebrate Bea and make her feel that her lessons have reached yet another generation that call Addison County home.
---
Advertisements
Search our Archives