Main Sections
Front Page
Sports
Valley Vitals
It's in the Stars
Starwise
Archives
Links
About The Voice
Contact Us
Blending English Theater Music And Life Lessons: Meet Vuhs Teacher Of The Year Chris Wyckoff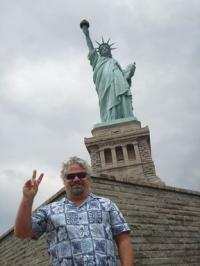 photo provided

A work of art himself, VUHS Teacher of the Year Chris Wyckoff blends music, theater, the arts and English to create a memorable learning experience.
Wednesday September 26, 2012
By Cookie Steponaitis
Students headed to Mr. Chris Wyckoff's quicken their pace and enter the room with an impending sense of excitement. Something is going to happen! They just know it. Why? Simply put, because Chris Wyckoff's teaching style is engaging, intriguing and theatrical. It tantalizes the mind, moves the body and challenges the individual learning styles of those present, a fact that has not gone unnoticed by fellow teachers earning Mr. Chris Wyckoff the title of 2012 VUHS Teacher of the Year.

Hailing originally from Connecticut, Mr. Wyckoff has in his own educational experiences memories of a teacher who serves as a model and inspiration for him even today. "I was lucky enough to go to a high school that had a school climate very similar to VUHS," shared Mr. Wyckoff. "The classes were relatively small (under 20) and the teachers generally cared for their students. I remember one teacher in particular, Mr. Holland, who would constantly take time out of his day to talk with me and my friends about issues that we were having with the work or just issues we were having with life in general. I know that as a student if I respected my teacher and truly cared about his or her opinion of me, I would work harder to put my best foot forward. This is why I put so much effort into building positive relationships with my students today."
Mr. Wyckoff earned a B.S. in Psychology and a B.F.A. in Theater from Tulane University and comes to teaching through a myriad of life experiences based in music, theater and the arts. After his senior year of college, Wyckoff moved to Los Angeles where he tried his hand in the Film Industry. "I had some connections on the Production side of the Film Industry and landed a job as a Post Production Assistant for several films including Michelle Pfeiffer's Love Field and Keanu Reeves' Bill and Ted's Bogus Journey," explained Wyckoff. "Although I enjoyed working in the industry, I wasn't acting and after seeing how the business worked I realized I wouldn't be acting any time soon so I went back to New Orleans to continue playing music. I played music in New Orleans for two years with such greats as Russell Batiste of The Funky Meters and Willie Green of The Neville Brothers. Eventually I moved to New York to record several original CD's with "Uncle Buzz," "Native," and "Stone Cold." Throughout these years I would work wherever I could including a men's clothing store, an electronic store, doing the accounting for a veterinarian and in New York City I worked two years as a full time temp for the Advertising Firm Ogilvy and Mather."

While working in New York, Wyckoff met and married his wife Suzanne and the couple made the decision to move to Vermont and start a family. The Wyckoffs, having fallen in love with the region and in particular Burlington during his touring years selected Vergennes for its unique personality and while it has a close proximity to Burlington, it maintains its own identity and charm. Purchasing the Emerson Guest House in 1999 and doing all of the restorative work, the couple focused on new careers. Chris took up his passion for teaching English at VUHS in 2005 after selling the Emerson Guest House.

Tapping into the local pool of educators, Wyckoff credits Ann Sullivan for her continuing role in shaping him as a teacher. "Ann Sullivan is my absolute hero!" reflected Wyckoff. "She exemplifies that commitment to the students and the importance of student relationships that I mentioned earlier. Whenever I am stuck or am having a hard time in the classroom, I always think to myself, 'What would Ann do?' and I come up with a solution. Ann allowed me to design and teach an American Literature unit which allowed me to get certified through the Peer Review process. After teaching that semester I realized how kind, accepting and generous the student body is here at VUHS and I have not looked back since."

Looking at each day in the classroom as an adventure with his students, Wyckoff finds that it never grows old and never loses its appeal. "I think that it is incredibly important to teach today because it seems to be getting harder and harder to get to the truth behind the social and political issues that face us today," remarked Wyckoff. "The media is full of bias and everyone can find a station or a Blog that supports their point of view, so why bother thinking. The way I look at it my job is not to teach students what to think, but rather to teach students how to think. I tell my students never to be satisfied with the first article they read on an issue, but rather to read several articles with different opinions and form their own opinion. As long as I can remember my father has sat down every morning and read through The New York Times and The Daily News. When I asked him what the point was in reading two newspapers, he responded, 'How can you form your own opinion until you have heard and understand both sides of the argument?' I believe it is so important to teach students this skill so we can have a better informed student population. After all, the future is in their hands."

While his students might remember the lesson of the day, the week or the month, Wyckoff is more interested in the long haul and his role in their lives in say twenty or thirty years. While he doesn't doubt that they will remember some of the antics, theatrics and intriguing ways to attack grammar, organize thoughts and share ideas, he has his heart set on inspiring them to be lifelong learners and to engage life with zest and enthusiasm. "My classes are highly entertaining as I treat my classroom as a stage," concluded VUHS Teacher of the Year. "I think I can relate well to students and their various developmental needs because of my experience in Psychology. Teaching is the perfect venue for me to get students excited to learn about the world around them." Indeed you can and indeed you do. The Valley Voice salutes all educators who reach inside themselves and their students to merge content, skills and passion for living into a blueprint that makes America's future solid and bright, and for those lucky enough to visit VUHS and wish to seek out Mr. Wyckoff's room, just stand still and listen. There will be a booming laugh, a hearty chuckle, a dramatic pause and then a lively lesson about grammar, author's intent, personal voice or all of the above.


---
Advertisements
Search our Archives