Main Sections
Front Page
Sports
Valley Vitals
It's in the Stars
Starwise
Archives
Links
About The Voice
Contact Us
Robert Frost Mountain Vacation Cabins Have Come to Ripton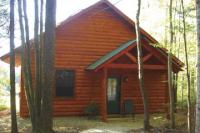 photo provided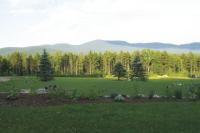 photo provided
Wednesday September 26, 2012
By Lisa Hartman
Are you sitting down? Good. Now close your eyes and breathe deeply. Envision a peaceful, beautiful place where you are surrounded by majestic mountains. Your worries diminish as your spirit is rejuvenated…..

Welcome to Robert Frost Mountain Cabins nestled atop Robert Frost Mountain in the heart of the Green Mountains. In the town of Ripton, on the 112 acre property of Carol and Marty Kulczyk, the passion, planning and hard work of this couple is coming to fruition. The cabins made of timber frame construction using timber from the property, and local resources and talent, are clustered within a 5 acre area so as not to disturb the acreage and the lovely mountain views. Two cabins of a proposed 10 cabin development are now open for year round, short term or extended stay rental and the Kulczyks have already hosted guests from DC, MD, PA, NC, CA and the UK.

Comfortably sleeping six adults, each of the two bedroom cabins (One of which is pictured below), are 630 sq ft. They are charmingly furnished, with well equipped kitchen, full bath, screened-in porch, DSL wireless internet, flat screen television for DVD viewing, and gas fireplaces. Guests can choose to stretch their family funds by eating home cooked meals they prepare at their convenience or visiting excellent restaurants within 15 minutes driving distance. When in season, fresh picked berries may find their way to your cabin, compliments of Carol and Marty, or you can pick your own on the property. If you're lucky, you may catch site of a black bear, moose, deer, bobcat, porcupine or rabbit from your screened in porch. The loft, just a stones throw away from the cabins, is an inviting meeting/ gathering space. A washer and dryer for guest use, is also available on the property.

Raised in Buffalo, NY, Carol and Marty feel fortunate to have been able to realize their dream of creating a vacation mountain getaway. "Starting a new business is full of emotions. It has been exciting, thrilling, and challenging. Most of all, it has been rewarding. We have deepened our connection to Ripton while executing on our vision to create a welcoming atmosphere where people leave feeling better than when they arrived," states Marty.

Carol and Marty moved to Ripton 6 years ago after having lived and worked in numerous states in the US and overseas including two years in Malaysia where they lived from 1994-1996. Carol states that living abroad was a "wonderful experience that allowed us to explore Vietnam, Singapore, Nepal, Indonesia, Thailand, and Hong Kong." After living a peripatetic lifestyle for many years, they consciously set out to find a place that they could call home. They both agreed that Vermont was the place. They lived in Burlington temporarily while they searched for, and then found their spot in Ripton, which is a near perfect fit for them.
Being new business owners in the hospitality business appears to come naturally to Carol and Marty. As you enter their home, a sign over the door reads, "May our home be warm and our friends many." which exemplifies their values of welcoming people and creating community. On any given evening, Marty and Carol may be found sitting around a campfire with guests or neighbors swapping stories and roasting marshmallows. Perhaps best stated by Marty, " Watching the moon rise over the mountains while warmed by a generous campfire after a full day of fresh air is good for the soul."

Carol and Marty also enjoy helping folks experience the outdoors all seasons and weather. Hiking, snowshoeing and skiing opportunities are plentiful both on the property and nearby. Their attitudes are perhaps best summed up by John Ruskin, the leading English art critic of the Victorian era who said, "Sunshine is delicious, rain is refreshing, wind braces up, snow is exhilarating; there is really no such thing as bad weather only different kinds of good weather."

To learn more about Robert Frost Mountain Cabins, visit the website www.robertfrostmountaincabins.com
---
---
Related Stories:

· Gone Fishin'

Advertisements
Search our Archives