Main Sections
Front Page
Sports
Valley Vitals
It's in the Stars
Starwise
Archives
Links
About The Voice
Contact Us
Rutland Give the Tigers Their Second Loss Of Season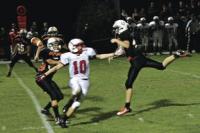 photo by Marcie Bolton
Tuesday September 25, 2012
By Marcie Bolton
Week four football brought Middlebury to 2 and 2 after falling to Rutland 15-13. In a game won by a field goal, Middlebury had a tough break as they left a bit out on the field after fumbles, errors and the like. Both of Rutland's touchdowns in the first half were completed after Middlebury fumbles. By the end of the first quarter the Tigers drove it to the one yard line but were unable to complete the mission on the fourth down thus there was no scoring in the first quarter. The action picked up on the first drive of the second quarter for Rutland. Mike Pileggi brought the ball in for an 11 yard touchdown after a grab of the kick-off ball which bounced off a Middlebury player's helmet to score. The point after was no good. Now 6-0, Middlebury answered three and a half minutes later when Tyler Provencher handed off to Mitchell Clark for a 23 yard drive. 7-6 at this point the Raiders recovered a fumble and Raider Eli Rogers brought it in for a TD with 1:38 on the clock. The 27 yard Raider's field goal brought the score to 15-7 at the half. After a scoreless third quarter, and 5:30 in to the fourth the Tigers got on the board again and the score is 15-13. The Tigers turn the ball over again and Rutland wins 15-13.

Senior Tiger Darren Desabrais commented; "We made mistakes, and there is not one person to blame. As a team we were flat out there, we were not hitting hard and it was a rough team effort. We did execute on a few plays. Overall we tried to keep good attitudes and never put our heads down. The game against Otter Valley will be interesting. We will stay optimistic. As a senior I am having a lot of fun and on top this season. This year I am playing more and on Varsity and I'm stoked." We have really good captains as far as keeping us all there mentally- getting us pumped and ready for the games. We try to forget the bad things and remember the good things and move on." The next game will be a Saturday game, September 29, at Otter Valley.

It was homecoming game at Doc Collin's Field and brought into the Middlebury Football Alumni hall of fame were Peter James, class of 1974 and Gardner Stone, class of 1960. Honored in a presentation on Doc Collins filed at halftime, both are graduated from Middlebury High School over 20 years ago and have been very active over the years in community service, athletics and overall good citizens.

---
Advertisements
Search our Archives