Main Sections
Front Page
Sports
Valley Vitals
It's in the Stars
Starwise
Archives
Links
About The Voice
Contact Us
Stories of Love Commitment & Family Spending Time with William Della Penta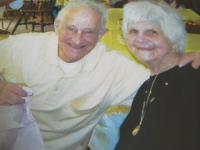 photo provided

Willliam and Rita Della Penta had a marriage that spanned sixty-nine years and a lifetime that witnessed some of America's greatest eras of change. At 95 years feisty, Bill still calls Brooklyn home and shares his advice, memories and stories with three generations of family.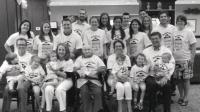 photo provided

Looking at 95 is not so daunting when you have a large family to show for it, according to Bill Della Penta. Shown here at a recent family reunion. Front row: Ron Dykes, Jameson Dykes, Maddie Dykes, Olivia Dykes, Tira Dykes, Bill Della Penta, Marian Connor, Della Connor, Colby Connor, Paul Connor and Ryan Connor. Second Row: Brandi Dykes, Michelle Dykes Matthew Dykes, Lauren Connor, Samantha Connor, Susan Connor, Brooke Connor, John Connor and Rachel Connor. Third Row: Lilly Connor, Peter Connor, Erin Connor, Ryan Woodward, and Travis Warech.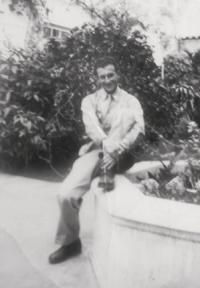 photo provided

Serving his country with his three brothers, William Della Penta was a gunner on a B-29 in the Pacific front from 1942-1946. Keeping him focused and grounded was his weekly letters home to and from his wife Rita.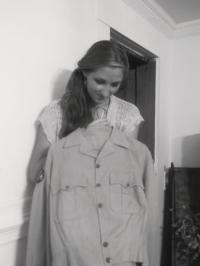 photo provided

Carefully holding his uniform, granddaughter Erin Conner is one of many grandchildren who preserves not only the clothing and the stories, but continues on the family legacy of patriotism and belief in community service.
Tuesday July 24, 2012
By Cookie Steponaitis
There is nothing ambiguous or indeterminate about William Della Penta. Within five minutes of meeting the 95 year old, you are clear about several things. The glint in his eye has not been dimmed by time nor has his passion for family, country or stating his own opinion. Simply put, Bill, as he is known to generations of family tells it like it is, and openly shares memories of his long life, military service and his 69 year love affair with his wife Rita.

William was born December 2, 1917 in Brooklyn, New York and was the last of nine children. His father was a carpet layer and his mother a homemaker. Bill has recounted several of his family stories and shared his intense pride for his New York home. Growing up Bill would caddy for men on golf courses and ran a paper route in the wee hours of the morning before school. Always in motion, whether at school, work or playing stick ball in the streets with friends, William and three of his brothers felt called to serve when WWII broke out. Each of the Della Penta men went into a different branch of service since the U.S. military had passed a law requiring siblings to serve in different branches. Bill went into the Air Force and served as a gunner on B-29's in the 530th Airborne in the Pacific Front of the war from 1942-1946, earning the rank of Sergeant and many Distinguished Service medals. All four of the Dela Penta men survived the war returning home to their wives and families, and their mother threw a block party when they arrived home.

No one was happier than Rita, Bill's wife and at the time a young bride. Looking at the letters they shared during his time overseas, the reader gets insight into the "love at first sight" relationship that lasted through sixty-nine years of marriage and ended only with Rita's death in 2010. "My love, I don't mind to sacrifice whatever I did for the sake of you, I'll be satisfied if I know your daily life is smooth, happy and satisfactory. Sometimes I feel lonely or blue and the only thing I can do to ease my soul is to keep my attention on the beautiful picture of yours and nothing else can give my restless soul peace," wrote Bill in 1943. Rita's letters were filled with tidbits of news from home and unfailing support and also echoed the intense feelings both shared for each other. "They said that as soon as the war is over," wrote Rita, "all boys in over two years will be discharged. I hope it is true because I fear that they will keep you for the occupation. I feel fine these days, but how could I not when the news from you and the coming end of the war is so promising."

During his time overseas Bill served in Japan, China, Burma and India and was fortunate that fate intervened on his behalf many a time. One particular instance involved how he was coming home after the war. His platoon and buddies, anxious to get home took the first flight off the base which would travel over the Himalayas. Having spent his whole time in an aircraft, Bill elected to take a boat back to the states. The plane carrying all of his friends crashed on the way home, killing all aboard. Bill's decision saved his life.

Returning to the civilian world was hard for Bill and his children share stories of him having a hard time sleeping at night and the sounds of the trolleys in the city would trigger memories of attacks and battles. During these restless nights he even shared stories which would bring him to tears recounting the young children coming up to them asking for bubble gum and then blowing themselves up. Bill never forgot those children and offers prayers for them to this day. Taking on a position with the New York Central Railroad, Bill served as a stevedore for most of his life and when the time came for his daughters Rita and Marian to attend college, he took on a night job delivering laundry as well. For Bill, New York City was a special place to raise a family and he took great delight in taking his children and later his grandchildren to Coney Island, the Empire State Building and the World Trade Center to really see the city he still proudly calls home.

While the years have gone on and his family now has two children, nine grandchildren and seven great- grandchildren, Bill still has no need of glasses and possesses close to 20/20 vision. While the family has spread out to include living in Vermont, Texas, Virginia, Michigan, Maryland, Rhode Island and Oklahoma, a huge number of them recently gathered in Brooklyn to honor Bill with a 95th birthday combined with a family reunion. While the crowd was a bit large, Bill had no problem moving from generation to generation and sharing with all of them a piece of advice and a memory of a statement declaring his devout faith in God and country. Recently joking with some doctors at a health appointment, Bill grabbed a pair of rubber gloves and said," Give me a pair and we'll go a round or two. I still remember how."

While Bill is happy to share his fascination for Elvis Presley, the Beatles, the Ed Sullivan Show and the iconic moment when he witnessed man land on the moon, the best way to know the man is simply to read the letters home to his wife and partner Rita. Unapologetically patriotic, Bill has little time and patience for people who are apathetic in their role in American society, but unending commitment to his wife, family and the generations who follow him as Americans. "There isn't a second, minute, hour, day or month that goes by without my thoughts being filled with you and how much you mean to me," Bill wrote in 1944. Rita responded with a letter the next day opening with, "There is no word in the world nicer than husband, because my husband means the whole world to me."

To this day, Bill Della Penta remains certain of many things, but first and foremost is his love for his late wife, his daughters and his pride in the generations that follow him to carry on. While he is sad he missed the ticker tape parades that those soldiers got who came home in the early months following the close of the war, his stories, his uniforms and his fierce independence has not dimmed and continues to inspire his children and grandchildren to this day. Bill lives, third generation, in the home he shared with his wife for 69 years in the city he continues to cherish with a mixture, practicality and reverence. Brooklyn is home and Bill Dela Penta has no problem with that!
---
Advertisements
Search our Archives