Donald Keeler is New Addison County Sheriff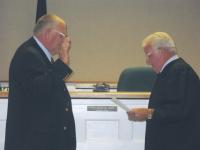 photo by Mike Cameron
Tuesday July 10, 2012
By Mike Cameron
The Frank A. Mahady Court House in Middlebury was the site last tuesday, July 3rd, when Don Keeler was sworn in as Addison County Sheriff. He has been interium sheriff since the passing on long time sheriff Jim Coons. Addison County Side Judge Frank Broughton did the honors.
The ceremony was attended by Vermont Governor Peter Shumlin who appointed Keeler to the position, members of the Governor's administration and members of the law enforcement community from around the state were on hand to congratulate Keeler.

Long-time Addison County Sheriff Jim Coons passed away this past spring after a long and courageous battle with cancer. Coons was one of the most respected police officers and administrators to ever serve as a Vermont County Sheriff.

In his remarks Governor Shumlin remembered Coons outstanding service and then praised Keeler, as the man he felt was the right man to fill the permanent position. "Don was recommended by both Republicans and Democrats. He has worked as a public servant in law enforcement and in local government. He understands public service," Shumlin explained. "As I look around the room and see law enforcement officers and sheriffs from around the state, I'm reminded that the law enforcement community here in Vermont is a family. they work hard and these men and women in our state represent the best there is in America," he said. "Jim Coons caliber, integrity, strong character and sense of justice will now be carried on by Don Keeler as Addison County Sheriff, " the Governor concluded.

In his remarks Keeler thanked his wife Kathy of almost 50-years for her support and encouragement. He also included his family and friends and the many members of his profession who were there to wish him well.

"I'm going to make Jim Coons proud," Keeler said.


---