Main Sections
Front Page
Sports
Valley Vitals
It's in the Stars
Starwise
Archives
Links
About The Voice
Contact Us
Mock Car Crash Simulation Bring Harsh Realities Home To Students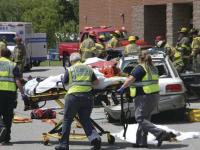 photo by Cookie Steponaitis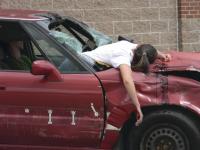 photo by Cookie Steponaitis

When the tones sounded on Thursday, May 31st of a double car crash at VUHS it was actually a staged car crash, but the reality of the process, the wounded, the fatalities, and the arrival of Vergennes Rescue Squad, Ferrisburgh Fire Department, Vergennes Fire Department, State and local police presented the assembled students with a grim image of the realities of drinking and driving, texting and driving and even excessive speed.
Tuesday June 5, 2012
By Cookie Steponaitis
When the high school students at VUHS went into the backyard on Thursday, May 31st, they got more than a chance to enjoy the Vermont sunshine and relish some time out of the building. They got a visual lesson in the harsh realities of accidents and fatalities that occur due to drinking and driving and unsafe driving habits. Sponsored by VUHS driver's education teacher Sandy Chicoine, the event is the collective efforts and work of all local fire departments, emergency response units and both local and state police. Students witness a staged crash where injuries, fatalities and emergency response departments have to use advanced life saving techniques and equipment to extricate trapped motorists or to stabilize the condition of those flung from the car that were not seat belted. Involving many hours of preparation, the event was in part carried out and planned by local fire cadets. Ferrisburgh Fire Cadet Trevor Patterson remarked about the event, "It is nearly graduation and unfortunately that is the time of year when most crashes involving teens occur. All it takes is one moment of bad judgment and lives are lost and others changed forever." With the atmosphere anything but festive, the crowd watched in silence and many teens even having to turn away at the sight of friends being carried from the scene with some draped in white sheets marking them as fatalities. While in their hearts they knew it was a drill, the reality of it shocked many.

The event concluded with a brief assembly where local and state law enforcement, Fire Fighters and Emergency Responders addressed the group about upcoming graduation events and celebrations cautioning the teens to think about safety and to remember that it can and unfortunately crashes like these have happened too often in Addison County, devastating graduating classes, families and taking the lives of local teens who were only thinking of the joy of graduating high school and were looking to the future when their lives were tragically cut short.


---
---
Related Stories:

· Health Careers Students Third Annual Trip To Washington, D.C.
· Class of 2012

Advertisements
Search our Archives