Main Sections
Front Page
Sports
Valley Vitals
It's in the Stars
Starwise
Archives
Links
About The Voice
Contact Us
Health Careers Students Third Annual Trip To Washington, D.C.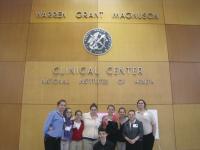 photo provided
Tuesday June 5, 2012
Students of the Health Careers program at the Hannaford Career Center recently had a remarkable opportunity to witness healthcare from a more national and global perspective. During a third annual trip to Washington, D.C. with Instructor, Rita Wells, students visited the National Institutes of Health (NIH) where they privately toured the NIH Clinical Center, met with several researchers for a panel discussion, met with the Clinical Director of the National Institute of Diabetes, Digestive and Kidney Diseases (NIDDK), and had the opportunity to go into the research labs at NIDDK. Visiting NIH helps students understand the enormity of what happens there, with so much research being done on patients from around the world. An unprecedented visit to the Walter Reed National Military Medical Center allowed students to privately tour both the National Intrepid Center of Excellence (NICoE), as well as, the Military Advanced Training Center (MATC). Students were able to observe newly returning soldiers with lost limbs during physical rehabilitation sessions, as well as visit the prosthetic lab, virtual rehab labs, and learn about the various ways that soldiers are rehabilitated and re-trained. There are few words to express how profound and enlightening the visits to both the NICoE and MATC at Walter Reed Medical Center are. In addition, Senator Sanders took time out of his busy schedule to meet with the Health Career students to discuss health related issues specific to Vermont. They also met with Senator Sanders' Health Legislative Advisor, who was interested to hear from students their future plans and what will be needed to assure they return to Vermont as health professionals after they further their education.

The experiences in Washington have a tremendous impact on students and they learn invaluable lessons to last a lifetime. The instructor finds that "taking learning out of the classroom and beyond the borders of Vermont opens a world of possibilities that students didn't even know existed. Students work very hard in the rigorous Health Careers program. They are our future healthcare providers and will soon be college bound as they journey toward their dream of having a career in a health profession. The trip to D.C. confirms for students that they can reach their dreams".

Upon their return from the trip students wrote a reflection paper and they say it best: To quote from one student: "Visiting the Walter Reed changed my life in a way I would never have imagined. Going to NICoE, MATC, and meeting so many dedicated people taught me about respect, responsibility, friendship, loyalty, and service…." Another student wrote: "In all my years of schooling, I never once thought that I would get the opportunity to be part of a class field trip that has been so life changing and has meant so much to me. I really believe that this experience will be part of my future and effect the direction of my education. Witnessing the different types of rehab they have for soldiers with lost limbs or head injuries was incredible. It was so inspiring to really see what goes on in the real world…"

All this would not have been possible without the kindness and generosity of the individuals and businesses that supported this effort during their fundraising efforts. All involved with the Health Careers program are very grateful for their support in making this trip a reality for the 3rd year in a row.


---
---
Related Stories:

· Mock Car Crash Simulation Bring Harsh Realities Home To Students
· Class of 2012

Advertisements
Search our Archives