Main Sections
Front Page
Sports
Valley Vitals
It's in the Stars
Starwise
Archives
Links
About The Voice
Contact Us
A Wee Bit of the Irish for Us All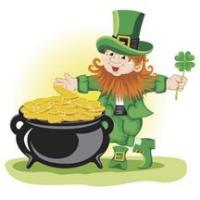 photo provided
Tuesday March 13, 2012
By Cookie Steponaitis
Perhaps your name is O'Malley or are you from County Sligo? No, well now, are you a devoted Irish fan of Notre Dame or maybe even just a little jealous of the smooth slide of Irish whiskey? Still no-well begorin, if that don't beat all. It must just be that you are an admirer of the little people and would search for the end of the rainbow! What ever the case, this is the month of St. Paddy's Day and as me old father once told me, "Those are two kinds of people, those who are Irish and those who wish they were and on Saint Patrick's Day everyone get's their chance." If you are still not convinced then perhaps you need to spend a little bit of time with the thought of parades or simply everything green. The truth is that the holiday has changed, evolving over the centuries and has some parts that are uniquely American that have very little to do with its Irish roots.
History tells us that the beginnings of this celebration originated with the death of St. Patrick, the patron saint of Ireland. The event is celebrated on March 17th and has spread and been marketed in Irish communities and other countries globally. Asking people to share favorite memories resulted in many responses through Facebook, simply by posting Calling All Irish. Answers included boiled cabbage, boiled dinners and corn beef meals, trips to church, and the ever present wearing of the green or dressing in the colors of Ireland. Rob Hunt shared that, "His grandma Kelly Brown always served the family corn beef and cabbage on St. Patty's Day, and yes, she had red hair, as did my mom… And those potatoes, ours were boiled." Others shared memories of Shamrocks, candy searches and even the wearing of green clothing.

While green is the color of St. Patrick's Day here in America, in Ireland wearing green is considered unlucky and green beer is definitely an American add on to the holiday. While the Emerald Isle definitely is the source of the Leprechaun lore and has caused many a person to search for the pot of gold at the end of the rainbow, these "wee folk" as they are often called, are not to be trifled with. Intelligent, mischievous and gifted musicians, Leprechauns are often found in the wilds dancing, singing and bewildering unsuspecting humans with escape powers that would inspire even David Copperfield.

So, as the 17th draws closer, how do you get in touch with your inner Irish? The answer is very simple. Pick up a tin whistle, a fiddle, or just plain celebrate your heritage, for Saint Patrick's Day is really about being proud of who you are and where you come from. That is magic the little people do not control, we do! Pull out some family photos, tell some stories, share a meal and celebrate family And, wishing all of you the traditional Irish blessing, "May the road always rise to meet you. May the wind be always at your back. May the sun shine warm upon your face. May the rains fall soft upon your fields, and until we meet again, may God hold you in the palm of His hand."
---
Advertisements
Search our Archives