Main Sections
Front Page
Sports
Valley Vitals
It's in the Stars
Starwise
Archives
Links
About The Voice
Contact Us
A Long and Exciting Season moves the Commodores Boys Basketball Team to being Barre Bound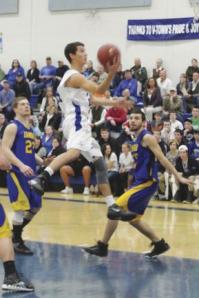 photo by Kim Lunna

VUHS Junior Guard Charlie Stapleford goes for the hoop and helps his team move closer to the goals of the season.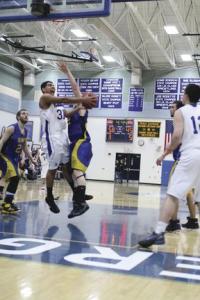 photo by Monica Birchmore

Commodore Junior Forward Stanley Salley drives to the lane around the defender in a recent game against Lamoille.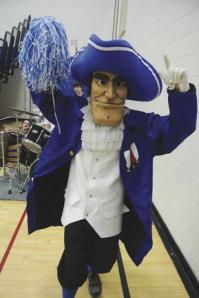 photo provided

The Commodore himself has a lot to be excited about as he and fans share the exciting season of the Varsity Boys Basketball Team.
Wednesday December 31, 1969
By Cookie Steponaitis
There is a sense in the hallways at VUHS that something is about to happen. Call it anticipation, or even trepidation, but on game days lately, the student body at VUHS is on edge, mixed with excitement and reserved enthusiasm. As the Varsity Boys basketball team moves through the hallways to their classes it is simply business as usual, books, pencils, thesis papers and crunching for tests. Yet in their faces and in their body posture, there is something more. Call it a concentration or focus, but it is there, because on that night, the next game is coming and the next stage in their long and exciting season will play out.

While the Division II number 1 seeded Commodore are no stranger to the skills of the game, and have statistically an impressive season of demonstrating control of the ball, the team realizes that each new game is a new opportunity and they must push on toward their goal of the lights of Barre Memorial Auditorium. The sentiments of the team were expressed by junior forward Charlie Stapleford who remarked, "We have been working a lot harder lately as we realize getting to Barre will be tough." Strong commitment, strong work ethic and a season now in the making!
It came into fruition on Saturday, March 3 rd in a riveting game against Fair Haven. Junior Shep Carter had an amazing 35 points and the team won in a 60-48 game. March Madness is alive and well at VUHS and if you don't believe it, try to get a parking space at a home game, where the Commodore team has a perfect win record. Or better yet, join the team this coming week on the bus for Barre. March Madness is alive and well at VUHS!

---
---
Related Stories:

· VUHS Wrestler Has Defining Moment in Career at New England Competition

Advertisements
Search our Archives