Main Sections
Front Page
Sports
Valley Vitals
It's in the Stars
Starwise
Archives
Links
About The Voice
Contact Us
VUHS Wrestler Has Defining Moment in Career at New England Competition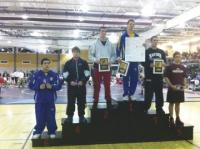 photo provided
Tuesday March 6, 2012
By Cookie Steponaitis
When the Valley Voice last spoke with VUHS senior Geoffrey Grant it was to congratulate him on winning his 100th career match. At the time Geoffrey simply smiled and said the season wasn't over yet and he still had some goals to reach. Indeed he did! On Saturday, March 3rd, Geoffrey and freshman wrestler Anthony Smith represented VUHS at the New England Wrestling Championships in Providence, Rhode Island. By the end of the day, Geoffrey had reached new goals, shattered old ones and had achieved recognition beyond most VUHS wrestlers in the school's history.
In phone contact with this Voice reporter all day, Geoffrey first called with the exciting news that he has pinned the New Hampshire # 2 seeded wrestler in his class. Following that came a hard loss to Connecticut's # 3. Undaunted, Geoffrey proceeded to beat Massachusetts # 2 wrestler 6-0 and pinned Connecticut # 2 wrestler. "I am not done yet," shared an excited Geoffrey in his second call in. "This means I will place, but I still have more matches to go." And go they did. As the afternoon wore on, news of Geoffrey pinning the Rhode Island # 1 wrestler in thirteen seconds increased the excitement and tension at the VUHS gym that was at the time hosting the Vermont State Cheerleading Championships and gearing up to host the Varsity Boys Basketball game following that. When asked if he was ecstatic, Geoffrey replied, "I am staying focused. Of course I am so excited, but I have to stay focused."

When the roar of the crowd died down and the evening was all done, the final phone call came back to Vermont with outstanding news. Geoffrey kept his promise to himself, his coach and his school. At evenings end, he was ranked fourth in New England in his weight class. "I just reached inside and focused," said a tired wrestler's voice. "I'm thrilled but I will celebrate after a nap." The Valley Voice not only celebrates with Geoffrey, VUHS, Coach Kittredge, Coach Bissonnette and all of the wrestlers, but reminds all of us to take note of what determination and focus can bring! Way to go, Geoffrey Grant!


---
---
Related Stories:

· A Long and Exciting Season moves the Commodores Boys Basketball Team to being Barre Bound

Advertisements
Search our Archives