Main Sections
Front Page
Sports
Valley Vitals
It's in the Stars
Starwise
Archives
Links
About The Voice
Contact Us
Going To School With Isabel Munnett Sharing A Life Time Of Memories



photo provided

Standing in the front of the Porterboro School in Ferrisburgh, the students including Isabel pause for a moment in their day at the one room school in 1928. Shown from left to right are : Lilian (Husk) Birkett, Evelyn ( Husk) Cushman, Clement Sears, Chester Bradford, Frances ( Husk) O'Connor, Florence( Husk ) Hawkins, and Isabel ( Husk) Munnett. Pleased as punch with her penmanship later on in life, her teacher Miss Julia Thorpe encouraged her to practice and Isabel had to take penmanship in college in order to get her teaching degree.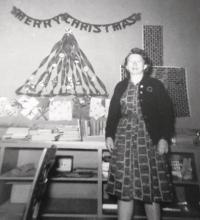 photo provided

Standing with her third grade class in January of 1962, Isabel Munnett continued to pass on her love of reading and learning to class after class, until her retirement in 1981.



photo provided

Taken in November of 1972, the third graders pictured here from Mrs. Munnett's class were in love with learning and especially with learning about the solar system.
Friday December 23, 2011
By Cookie Steponaitis
When Isabel Husk Munnett first saw the town of Ferrisburgh that would become her life long home she was six years old and it was a brisk November morning in 1927. She clearly remembers the bumpy nature of Route 7 as it was still be paved back then and she speaks with animation of her early days living in Ferrisburgh Center and running around helping her father do chores in the round barn. Already at six years old she was her father's appointed helper in the barn and learning the skills that would carry her through life. When asked if she preferred learning to keep the house or to keep the barn Isabel quickly responded, "The barn. You can't be in two places at once and I liked the outdoors."

Having just celebrated her 90th birthday on October 28th, Isabel has a lifetime of memories to share about the people, places, events and schools of Ferrisburgh, Vt. She knows better than most, because the largest portion of her life was spent teaching the children of the county in one room schools and at Ferrisburgh Central School. For Isabel Munnett there is no separating family and her school children, because she taught each class like they were her own.

After her family moved in the spring of 1928 to the "Orr" Farm in the Porterboro part of Ferrisburgh, Isabel and her siblings went to the one room school at Porterboro. With eight students in the one room school and five of them coming from her family, Isabel has strong memories of days filled with helping her dad milk the cows, carrying water from the spring for the teacher for the school, and first grade readers that included " Dickie Dare." For Isabel, the wonder of reading and the power of words began her love of school, her love of teaching and one that in the birthday cards she received at her 90th generations of students recalled and thanked her for.

For those who know Ferrisburgh past and present, Isabel is not only linked to the schools, but to other key families whose farms and stories are a part of the heritage of the area. One of eleven children, Isabel is today the oldest surviving of her siblings and while her family includes four children, three grandchildren and one great grandson, he hazards to guess how many would be in the photo if you included the siblings and their families. " Well," chuckled, " It is safe to say that there is a parcel of us that are related." Her siblings were Florence(Hawkins), Evelyn(Cushman), Isabel(Munnett), Lillian( Birkett), Frances(O'Connor) Elson(Husk), John (Husk), Neil (Husk), Margery (Stygles), Joan(Essex) and Louise(Parkinson). While Isabel and four of her siblings remain alive today, the following generations are firmly planted in Vermont and particularly in Ferrisburgh itself.

"I met by husband Ralph, but everyone called him "Ted"," she shared, "when he was the Truant Officer for Porterboro School. I had seen him once before that when my folks went up to the Robinsons place for a Farmers Club Meeting. He and Ken Cushman were there and shall we say were making a bit of noise, so I kind of had to notice him." The couple was married in 1944 and moved into the Munnett Farm where they resided their entire married life. " Ted worked the farm with his father for a while, " recollected Isabel. " But he bought it from his dad and we worked the farm until his death in 1981. Our children Bill, Peter, Mary and Barbara were born and grew up on the farm. Barbara particularly loved F-H and the other kids were all involved in activities at the school.

While her face lights up when telling stories of her family and time on the farm, it isn't long before her memories bring her back around to her passion for education and her role as a teacher in two local one room schools and eventually a twenty-five year stint at Ferrisburgh Central School. " Our favorite games at school were " Steal Sticks" and " Red Rover", shared Isabel. We would slide down the road near the school and I will tell you my teachers did not put up with any foolishness. Every afternoon our teacher would read to us and she told us never to interrupt her or she would stop reading. So one day as I sat there listening I watched a hole by the stove pipe get bigger and bigger. Eventually, when smoke came out of it, I finally interrupted her and showed her the fire. 'Why didn't you tell me sooner' was her question. My response back was simple. 'You told us not to interrupt you." One of the boys actually crawled up into the attic space that time and put out the fire with a bucket of water that we had carried from the spring.

From these early school experiences, Isabel grew to love reading and continues to this day. After graduating from Vergennes High School, (the old wooden three story building that used to stand where the Vergennes Fire Department is today) she went to UVM and got her teaching certificate. While her first year teaching was at the Norton Town One Room school in Addison, her fondest memories come from teaching at the Porterboro School in Ferrisburgh and Ferrisburgh Central School. While Isabel continued to teach, she never forgot her lessons learned on the farm and also working as a milk tester in the local community. She would go from farm to farm and stay overnight, taking samples on how much milk, how much cream was produced and the quality of both. The farmers knew her and knew her experiences working with her father and husband, so while only a few female milk testers existed, no one ever questioned Isabel about her knowledge or skill.

While looking at folders of her years of students at Ferrisburgh Central School, Isabel pauses to name off row after row of children, still remembering them nearly thirty years later. She recalled vividly examples of her third grade classroom and lessons that the children loved year after year. She looked at this reporter and said, "It is kind of funny, you should interview me about this, because I got the job at Ferrisburgh Central School when the teacher who was leaving saw me and suggested I apply. She even put in a good word for me. That was 1960 and the teacher was your mother Irene Stevens. She was leaving to marry your father. It sure is a small world."

Small world indeed! Sitting with Isabel is like striking a rich vein of precious metal in the ground and seeing that it runs to a huge untapped vein further in. Topics lead to farms, to stories, to comments, and to recollections of ninety years of knowledge and love of an area and its children. Whether recounting stories of individual students from her forty years in a classroom or neighbors from her childhood or the role of Grange in planning and executing programs benefitting generations of Addison County residents, Isabel is not missing a word, a beat or a year in her stories. She recalls vivid detail and mixes them in with wit and stories of the seventeen homes she lived in, before she called the farm her long term home.

To conclude the interview, the topic comes full circle back to her years as a teacher and her thoughts about education today." I must admit," sighs Isabel. "I did like the one room school house years the best, because you could do as you damn well pleased and the kids learned so much by helping the other children and by just listening .That is a skill that is sorely missed today. I myself never had discipline issues, but today I know you are not allowed to be as much a part of their lives as we could then. We were family."

Thumbing through the over fifty cards that came in for her 90th birthday from neighbors and friends, it is easy to see that Isabel's legacy and passion for teaching continues on. Isabel taught 28 years altogether; 1941-43- one-room schools, 1955-56- Charlotte Central School, and 1956-1981- Ferrisburgh Central School. Many cards came from past students and one wrote, "Our kids loved you at FCS and we thank you for all you have done." Another concluded, "What a wonderful thing to live in a small town and be able to say I still know my third grade teacher. She is the best."

Indeed, she is. The Valley Voice salutes Isabel Munnett and all of her generation who continue to hold strong to the memories of Vermont town life past and still find time to be a part of community planning present. Still chairing Grange projects to this day, Isabel Munnett has no regrets as she looks out from her front window at the land she and her husband farmed and the community she still loves. She's home and that's just dandy to her.
---
Advertisements
Search our Archives