Main Sections
Front Page
Sports
Valley Vitals
It's in the Stars
Starwise
Archives
Links
About The Voice
Contact Us
A Working Life: Teacher Mary Doyle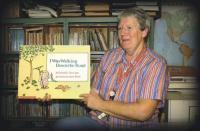 photo by Marcie Bolton
Tuesday December 13, 2011
By Marcie Bolton
One September morning, the first day of school at Middlebury Elementary in 1964, Mary Doyle was standing in front of a class full of six year olds. It was also her very first official day of teaching. There were many firsts that day. Sitting amidst the first grade classroom, on his very first day of school, ever, (there was no kindergarten then) a wide-eyed little boy was left off by his father. All this six year old child knew was that his father had just walked out the door, leaving him in a strange place, where all around him were people he didn't know,…and he was going to have none of it. The door was open and he ran out the classroom and around the corner and who did he run into but Mary Hogan herself, the principal at the time, and the namesake of Middlebury's elementary school. I asked Mrs. Doyle what happened next and she said the little boy came back to class. Principal Hogan had said he belonged in that classroom and that he needed to go back in and sit down. There was going to be no coddling of this lad. One did not question Mary Hogan. Mary Doyle did wonder what Mary Hogan was doing outside of her classroom door that first day though.
The little boy did go back and stick it out, and Mary Doyle stuck it out too, for forty-seven years. She has outlasted 5 principals, countless other teachers, and hundreds of children that have passed through her steady guidance.

Mary Doyle was born and raised "over the hill", as she says, in Brookfield, Vermont where her family's dairy farm land bordered the elementary school. Growing up, since she and her family lived so close to the school, she and her siblings took on the job as caretakers of the building getting paid $45.00 a year to sweep the floor every day and stoke the fire. Besides the one room school house the kids took care of, she and her two brothers and one sister all got to pick "projects" of their own around the farm. Mary chose to take care of the roosters, her sister chose the sheep, and the boys took care of the pigs and cows. Each summer little Mary would get 25 rooster chicks. She would raise them up and then in the fall they killed the birds, dressed them and sold them. Any money over and above the cost of feeding the birds went to Mary, which was great incentive for her to do it the next year. I mentioned to Mary I thought caring for 25 roosters was a great deal of work for a kid and she replied, "Well, it is a lot, but it did not seem like that much because my mother had 500 hens."

She won a calf from the Jersey Cattle Club when she was twelve, in an essay contest in which she had to describe why she wanted one. She raised the calf and many more after that first one.
Mary went on to become an elementary school teacher. She came from a family of college educated women, with the exception of her own mother. Because her mom was too poor to attend college it was her goal to have her children get a college education back when women didn't go to college that often. Her father's mother and grandmother went to Johnson State College, so he thought she should as well. In 1960, taking his advice, she began studying elementary education at Johnson State. She recalls her favorite class being Reading Methods.
To this day reading is still something she is very passionate about, and every day Mary loves going into work for the kids and their pure, innocent enthusiasm. In the sixties she started off teaching with basal readers or Dick and Jane style books. "The children really liked the books, but after a while, the teachers got sick of them." Mary admitted. Today she feels individualized reading programs are the best. "If you just learn site words your vocabulary is very limited." The methods of teaching have swung the full pendulum of styles throughout the years, but Mary Doyle feels the individualized style is best.
It was around books in the school library where she met her husband, where he taught as well. They were both checking out books for the weekend break and struck up a conversation. You will often see Ray in her classroom volunteering his time, since retiring a few years back.
She feels kids today have so much pressure on them compared with years past. To relieve some stress and simply because it is a general good health measure, Mary is a firm believer in exercise. "When I am not at school I like to be outside, so I think other people like to be outside too. They now say in books about the brain, if you go out and exercise first, and then come in to be taught, it opens up your brain waves so you can better learn things. I always try to think of new things to do with the kids. On rainy days, when the water level is high, we go out and float boats down the stream, out by the sidewalk. I take them sliding when there is snow. On a daily basis we start our day running around the blacktop a few times. Then, after running, I have them walk and talk. The kids have to walk and talk with their friends for another few laps around the blacktop. The books on the brain also say the kids have to learn to express themselves before doing the writing. Kids are not talking enough at home because they sit in front of the T.V. and watch videos too much."
For many years Mary used to ride her bike over 20 miles a day from her Salisbury home to Middlebury and then home again. Today, she parks her car at various distances from the elementary school and walks. Depending on how she feels that day is how she decides where to park. With flashlight in hand she starts her day walking the dogs on the trails she and her husband made throughout the 30 acres of land they own. She ends her day the same way in the dark. She and her husband of 45 years, Ray, cut all of their own firewood each season, even though they are both in their seventies. They have slowed down in the maple syrup department. They no longer tap their trees. They have allowed another operation to come in and get the sap as long as they get some maple syrup at the end of the season. Mary and Ray still help repair any broken tap lines, which their two dogs, Lily and Susie, may have chewed at while chasing squirrels.
Mary Doyle has the exceptional combination of a respect for each of her young learners, her own firm belief in a strong body equals a strong mind and commitment to what needs to get done, every day. Every student should have the opportunity to learn from a teacher like Mary. If you see her walking along Court Street before or after school hours, make sure you wave hello.
---
Advertisements
Search our Archives