Main Sections
Front Page
Sports
Valley Vitals
It's in the Stars
Starwise
Archives
Links
About The Voice
Contact Us
Taking a Serious Look at a Vermont Treasure: Its Cemeteries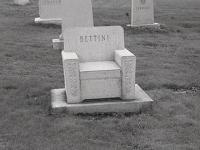 photo by Hope Cemetery Photo Archives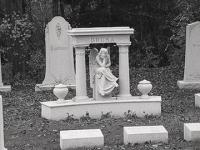 photo by Hope Cemetery Photo Archives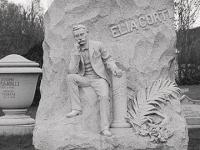 photo by Hope Cemetery Photo Archives

Visiting Vermont Cemeteries exposes the visitor to the powerful craftsmanship and unique perspectives on life and death. Pictured below are three famous pieces from the Hope Cemetery in Barre, Vermont. The easy chair was carved and marked "Bettini" ponders the time spent here on earth. Simply known as "Bored Angel", the second stone was carved by Louis Brusa. The third stone is one of the most famous and was carved from a single piece of granite and boasts a life sized person sitting there thinking about eternity for all eternity. Visited each year by many, cemeteries are one source of history that can amaze all visitors with their unique style and message.
Tuesday November 22, 2011
By Cookie Steponaitis
We have all visited a cemetery and for most of us it was at an emotional or tragic time in our lives. While we were there we might have glanced at the stones, the geography of the cemetery and perhaps even gazed in awe at some of the artistry engraved into the stones, but since when are cemeteries high on any of our lists of desired places to visit?
That could be about to change! More and more Vermont cemeteries are gaining not only state, but national recognition for their artistry and rich historical source of information. Not only are they time capsules of often times generations of Vermont families, but the wit, wisdom and offerings found on the front of the stones offer a window into the thinking and spirit of the people that settled this state.

Hope Cemetery in Barre, Vermont has been long recognized as a treasure house of art created by Barre craftsmen that appears in Barre granite. The park was started in 1895 and follows a slope in the landscape over the eighty acres currently in use in the 125 acre piece. Created in two distinct architectural styles, the cemetery has realistic images and items including race cars and soccer balls and is recognized for the Italian styling of the monuments and some of the lavish memorials and tombs with political statements.

Vergennes First Cemetery holds graves dating back to the years of Thomas Jefferson's presidency and is known for the wonderful tombstone rubbings that can be done of images including angels, children's faces and several forms of crosses that appear on the stones.

Tucked away in Ira, Vermont is a cemetery with stones dating back to the 1600's. For years, the students at the Ira Elementary School would pick Lilacs to make bouquets and others would carry the flag. All of the students would march to the cemetery and a local pastor would perform a ceremony commemorating Memorial Day. While they were there, the students would look at the older stones and do grave stone rubbings. One eighth grader from the last graduating class from the one-room school remembers the annual pilgrimage and remarked, "My dad used to take pictures each year and we would bring the tombstone rubbings back to school. It taught us the value of honoring people and remembering them. Townspeople would come too and they would stop at the graves and tell stories. It was a time of community and remembering."

In addition to the historic significance, one can not help but be impressed by the creative, ironic and unflappable humor displayed on some of the stones. Those seeking wisdom can read, "Rebecca liked good punch, ale and wine. She lived to be 99." One prominent auctioneer left us to reflect on his "going, going, gone," remarks. Another prominent attorney quipped, "The Defense Rests." Even Enosburgh Falls, Vermont has its unique take on a death with, "Here lies the body of our Anna done to death by a banana, It wasn't the fruit that laid her low but the skin of the thing that made her go." Even those with more dry humor can appreciate a Vermont widow who had carved into her husband's stone, "Sacred to the memory of my husband John Barnes who died January 3, 1803. His comely young widow, aged 23, has many qualifications of a good wife, and yearns to be comforted."

So the next time you are out for a walk or a drive and pass any of the small and large cemeteries gracing the hillsides of Vermont's Green Mountains, stop, look and get ready for some serious history and a laugh or two. The pioneers who settled this region were a hearty bunch and like us today, looked at life with humor and wit. "I told you I was sick," reads one stone in a northern Vermont cemetery. A treasure for the mind, some humor for the heart, and the eye appeal of superb craftsmanship and artistry make a trip to the cemetery worth a second look.
---
Advertisements
Search our Archives