Main Sections
Front Page
Sports
Valley Vitals
It's in the Stars
Starwise
Archives
Links
About The Voice
Contact Us
Guys and Dolls at MUHS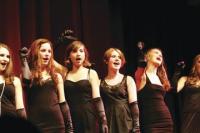 photo by Marcie Bolton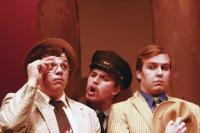 photo by Marcie Bolton
Tuesday November 15, 2011
By Marcie Bolton
I visited the set of Middlebury Union High School's production of Guys and Dolls this week as they prepared for their weekend performances. It all begins with a bet. Nathan Detroit bets high-rolling gambler Sky Masterson that Sky cannot persuade Save-A-Soul Missionary Sister Sarah Brown to accompany him on a trip to Cuba. While the worldly Sky works his charms on a wary Sarah, Nathan is doing his best to stay outside the matrimonial clutches of his long-suffering fiancée, Miss Adelaide. "Guys and Dolls" is a fable about what happens to gambling men and the women who long to tame them. Set in the colorful world of New York City in the mid 20th century, the romantic and funny "Guys and Dolls" is populated with gangsters and gamblers, missionary dolls and scantily clad showgirls and one the great musical scores in the history of American theatre. (frankloesser.com).

The actors in the MUHS play have found the characters who they portray all seem to resonate somewhat with their real life personalities. D.J. Piper who was Nicely-Nicely Johnson, declared, "Nicely is big and outgoing. He likes food and I like food." Walking around backstage and talking with some of thestudents who were in the play as they waited for there turn under the lights, I asked them about their characters and their own personalities.

Annika Jewett, a sophomore from Ripton, who played a Hot Box dancer, said she enjoyed playing this character who is not an everyday character. "My character is expressive not shy." Annika also offered that the production was not as much of a makeshift experience like she encountered at North Branch, her former school, but more of a serious production.

One of the main characters, senior Holden Amory, who played Sky Masterson, said Sky's personality is like his own because he is a risk taker, overly confident and intelligent. Holden recollects, "When I got the part the director told me it was me in real life." I asked Holden if he was much of a gambler, he replied, "I figured I had better try gambling since it is a big part of who this character is. I bet on the Rangers and the Cardinals – just to sample. I lost." When I asked Holden how he felt about the kissing scenes, he smiled and said there were not really a big deal because of his previous experience in the Middlebury Town Hall Theatre's, Sound of Music. He played Rolf, a messenger who is in love with Liesl. There he had to do a kissing scene with someone older than himself. Since then he said the kissing scenes in Guys and Dolls have not really made him blush. Holden, a senior this year, started acting when he was seven with a small role in Music Man. He mentioned he does not want to pursue acting as a career, but would like to run for president in 2032.

Cody McGlashan, grade 12, who played Officer Brannigan, the Irish police officer, said his character is furious and has a lot of authority where people have to listen to him. He said it was fun playing this incensed character because it appeals to his inner angry teenager. Molly Wright, in grade 11, mentioned that the play was longer and more complicated than previous plays she has been in at MUHS. Her character as a mission band member was very conservative, but got to be a bit more flirtatious near the end of the play. Ryan Gyukeri played Benny, one of the gamblers. He compared his character to his real life personality, "He is a cocky guy and every once in a while he freezes up." Gyukeri was one of the singers of the play's anthem song, Guys and Dolls. He has a smooth melodious voice which projects well.

The play had great scenery and the live musicians behind the set added such rich sound. Shannon Bohler-Small, director, clearly loves her job guiding these young thespians and gives them a platform to grow by expression. From acting, directing and designing, to producing and technical theatre, this play was a team effort guided through the process with a calm no-nonsense style. There is nothing like live theatre with the looks between characters upon a forgotten line, the lights, and squeals from the audience, the intimacy and the immediacy.


---
Advertisements
Search our Archives