Main Sections
Front Page
Sports
Valley Vitals
It's in the Stars
Starwise
Archives
Links
About The Voice
Contact Us
Third Seeded Tigers Overpowered To Div I Leader Hartford 42-6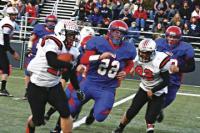 photo by Marcie Bolton

Marshall Hastings Carrying the ball. He scored the only Middlebury touchdown of the game.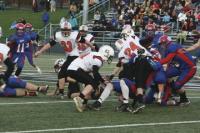 photo by Marcie Bolton

Sam Usilton and defensive squad.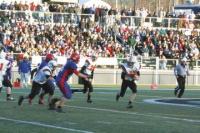 photo by Marcie Bolton

Jordan Connor runs the ball
Tuesday November 15, 2011
By Marcie Bolton
Talking with Mike Cameron, Sports and features writer for the Valley Voice, I asked him his prediction for the division one state football championships at Castleton State College. He said "Hartford has not played a team with as good a defense as Middlebury. Over the last two years Middlebury has gone 19-2. I am not surprised they have done this well because Dennis Smith and his staff are as good as there is in New England. Middlebury football carries on a long tradition of being teachers first and then coaches."
45 degrees and slightly windy, the Middlebury Tigers' game was played with heart and they did not back down until it was over falling to the Hartford Hurricanes 42-6. It has been a great season for the Tigers, with one loss to BFA, which they redeemed in the semi-finals 18-7.

Both Hartford and Middlebury, who traditionally are running teams, had some great passing and both teams had potential in the first quarter. 5 minutes into the game, Hartford took advantage of a costly Middlebury fumble and scored. 15 seconds later, Jesse Otis regained the ball for Middlebury after Hartford fumbled on the tackle. The game at this point looked like a real battle. Hartford was relentlessly marching down the field. Hurricane Travis Wilson had a 37 yard TD run. Hartford was rife with seven penalties and 50 yards, and it looked as though Middlebury might capitalize after Marshall Hastings ran for an 82 yard kick-off return with 1:27 left on the clock. P.A.T was no good. By the end of the half the score was 14-6.

Double tight ends and a full house backup for Hartford was the typical course of action and Middlebury was able to stop them many times. By the end of third quarter Hartford had sixteen first downs compared to Middlebury's three. The Tigers hung in the first half but Hartford was too good and they just kept coming at them. Hartford's four touchdowns in the second half sealed the win for the second time in two years.

Starting the season the Tigers did a super job especially because their first four games they won without a bunch their main players. Tyler Provencher was able to put his quarterback skills to the test. Then the game prior to the state championship Dillon Robinson was sidelined with an ankle injury. Hartford's defense really stopped Middlebury from making the progress they needed. I know Coach Smith is proud of the continual progress his team conveyed week after week on the field. They put it all out there and were rewarded with a fantastic season. There are not many teams out there where coaches and players work together as seamlessly as the Tiger team.

The annual senior bowl will be played at Middlebury College on Saturday, November 19, 2011 beginning at 12:30 p.m. On the roster for the South from Middlebury are Austin Quesnel, Joey Zeno, Patrick Foley and Marshall Hastings.



---
Advertisements
Search our Archives