Tigers Take Down Bobwhites In Semi-finals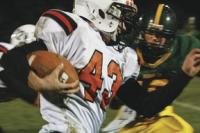 photo by Marcie Bolton

Mitchell Clark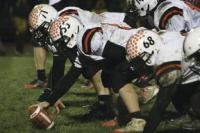 photo by Marcie Bolton

Dylan Lanpher getting ready to snap the ball
Tuesday November 8, 2011
By Marcie Bolton
Bellows Free Academy gave it their all against the Middlebury Tigers at the semi-finals game on Friday, November 4th. Their all was not good enough. Middlebury was determined not to allow this team beat them a second time this season. Talking with freshman Tiger football coach Peter Brakeley pre-game about his prediction for the outcome, he said "Of the 4 teams playing tonight, 3 of the four are running teams. As I see it the game will be a defensive battle. I think late in the game it will come down to a three point field goal for the Tigers to win." Coach Brakeley was right about the win, just a bit off on the spread. The Tigers won the game 18-7.
The first quarter tension was high. Coaches on both sides were pacing on the sidelines. Middlebury drew first blood as their QB Dillon Robinson scored a 2 yard touchdown with 3:19 left on the clock. The point after was no good. Fumbles plagued both teams the first two quarters. The Tigers continued clawing for another score in the second quarter, but let go of the ball twice. "Hey guys, we can't keep turning it over," Coach Smith responded from the sidelines.
A scoreless second quarter was proof the underdog Middlebury was in it to win it against St. Alban's powerful defense. After the half came the real momentum. BFA's Doug Saffo ran it in for a 24 yard touchdown at the end of the 3rd quarter. Their point after was good. The score was now 7-6.

Dillon Robinson scored again later in the fourth quarter with a 10 yard run-in. Middlebury's Sam Smith commented, 'We made a lot of mistakes in the last game. [This time] we corrected them." With six minutes remaining on the clock Robinson sustained an ankle injury, and 4-0 Tyler Provencher came in to QB. "We felt confident with Dillon and when Tyler came in we felt just as confident. Hit them hard and don't make mistakes" Smith acknowledged.

Austin Quesnel sacked the St. A QB and then shortly after one more touchdown play by Jordan Connor. BFA fought hard but did not keep Tiger pace. Middlebury is off to Castleton for the state championship against Hartford this coming Saturday.


---