Main Sections
Front Page
Sports
Valley Vitals
It's in the Stars
Starwise
Archives
Links
About The Voice
Contact Us
Emma Hart Willard: Educator With A Vision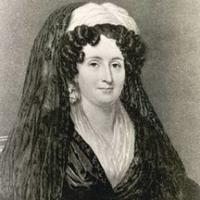 photo provided

Emma Willard pioneered female education in Middlebury and had a lasting impact on the nation!
Tuesday November 8, 2011
By Cookie Steponaitis
Emma Hart Willard was born in Berlin, Connecticut in 1787, the sixteenth of seventeen children and despite the time warp and distance from the Champlain Valley, her path crosses ours on a daily basis in more ways than one. She is the face etched into granite and marble in the roundabout by the Middlebury Inn that people driving their cars around and through Middlebury view each day. And, for any female who has attended a public school in the past two hundred years, she is an icon. Emma Hart Willard saw in women the equal capabilities as in men, and demanded an education that prepared the woman to be what she dreamed of and not what she had to become.

"Genuine learning has never been said to give polish to man; why then should it not bestow charm on women?" Emma Willard wrote in 1818. "We too are primary existences…not the satellites of men." Largely self-taught, Emma was encouraged by her father to expand her mind, attended a female academy and taught her first class in 1803. Emma became the principal of a Female Academy in Middlebury from1807 to1809 and met and married her husband Dr. John Willard. In 1814, Emma Willard opened a boarding school for girls in Middlebury that possessed a different set of curriculum and learning for its time.

Emma wrote and published her Plan for Improving Female Education in 1818 and won a surprising endorsement from New York Governor DeWitt Clinton. Speaking to the New York State Assembly she identified the issues surrounding the limits on a woman's education and remarked that, "The education of females has been exclusively directed to fit them for displaying to advantage the charms of youth and beauty ... though well to decorate the blossom, it is far better to prepare for the harvest." In addition to recommending a schooling program that included hard sciences, mathematics, philosophy, religion, and foreign language Willard also pushed for college educations and advanced degrees for women, an idea virtually unheard of in 1818.

Leaving Vermont later that year, Emma Willard moved to Waterford, New York where she opened the first school in the United States that openly awarded a college level education for women. The school, Troy Female Seminary today bears her name as the Emma Willard School. She stayed with that school and directed it until 1838. In order to supplement her fledgling school, Emma wrote textbooks and traveled across the country lecturing on schools and women's education.

While her husband passed away in 1825, Emma remained at the school and the tradition was carried on by her daughter and son-in-law. An accomplished poet, she also published several volumes of poetry and is best remembered for one deeply spiritual reflection entitled, Rocked in the Cradle of the Deep.
The statue in her honor located in Middlebury was erected in 1941 and those paying close attention will see that her face is directed toward the horizon. Always one to push beyond what was there at the time; Emma Willard earned her place in the Hall of Fame for Great Americans and other museums of merit because of her ability to translate into action changes in women's education that were well ahead of her time and her fellow educators.

"In inquiring concerning the benefits of the plan proposed," remarked Emma Willard in 1831, "I shall proceed upon the supposition that female seminaries will be patronized throughout our country." Proceed she did. While Emma Willard died in 1872, her seminary, texts and writings became one of the basic set of tenets for other educational reformers who followed her. Ahead of her time, she made a lasting impression not only on the women of Addison County, but on the legacy left to women who followed her for over a century. With her image cast in stone, she is a permanent marker on the Middlebury scenery and gazes out on a town where young people from around the world come to secure a quality education. Yet another remarkable event in Vermont's history and a legacy of valuing education and possessing the conviction to do something about it, even if you were a hundred years ahead of the pack.
---
Advertisements
Search our Archives