Main Sections
Front Page
Sports
Valley Vitals
It's in the Stars
Starwise
Archives
Links
About The Voice
Contact Us
Fourth Quarter Miscue Gives Tigers a 14-7 Quarter-Finals Win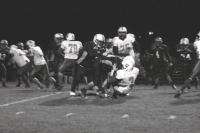 photo by Marcie Bolton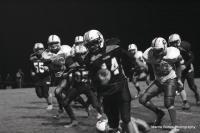 photo by Marcie Bolton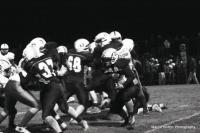 photo by Marcie Bolton
Tuesday November 1, 2011
By Marcie Bolton
A fourth quarter botched snap that sailed over the punter's head into the end zone resulted in a quarter-finals win for the Middlebury Tigers 14-7. Dylan Lanphear, with the help of Jesse Otis and Joey Zeno, pounced on the ball in the end zone. With a minute and twenty seconds on the clock and a field goal that was good, the score proved to be the game winner for the Tigers varsity football team. There was more offensive action in the last eleven minutes of the game than in the entire first three quarters making for a lot of noise on the Middlebury side.

The cold was settled in alongside the heavy smell of woodstoves for this chilly late October football game. The dew on the field made for a very slick surface resulting in part of Colchester's undoing. The Lakers moved the ball around the field the entire game and gave a true challenge to the Tiger boys. The cork popped in the fourth quarter when Middlebury QB Dylan Robinson scored as he faked the hand off to Jordan Connor and ran it in for a one-yard touchdown, powered squarely down the middle. The extra point was good. At seven-0, it was clear the Tigers had more work to do to secure their win. Shortly after Middlebury scored their first touchdown, Colchester's Taylor St. Germain threw to Brady Corrigan for a 4-yard score. This and their field goal were the only points of the night for the Lakers.

Six penalties for 60 yards did not help the Lakers who are in their first year as a division one team. Still, the Lakers showed their ball prowess on the field by keeping the well-oiled Tigers at bay the entire first three quarters. Marshall Hastings gained 65 yards and Dylan Robinson ran for 50. Jordan Connor matched with 50 yards for Middlebury, and worked through the pain of an injury to stay in the game.

With a minute and a bit to go, the Tiger's made their final touchdown in the huge fumble-in-the-end-zone play. A flag on the kick gives the Tiger's another try to score their P.A.T. for the win. That was it 14-7.
Next week Middlebury will travel to Bellows Free Academy in St. Albans for a semi-final game against a team that gave them their only loss of the season. Middlebury's skill and strategy, which they used all season, once again will have to be square and center to end the season with a win.
---
Advertisements
Search our Archives