Main Sections
Front Page
Sports
Valley Vitals
It's in the Stars
Starwise
Archives
Links
About The Voice
Contact Us
Middlebury Powers Past Otters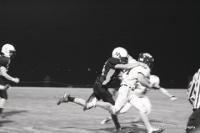 photo by Marcie Bolton

Dylan Robinson goes in for the tackle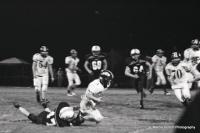 photo by Marcie Bolton

Jordan Connor on the tackle



photo by Marcie Bolton

Nick Felkl making the scoring catch from Tyler Provencher's dead on pass.
Tuesday October 4, 2011
By Marcie Bolton
The Tigers won the toss in their brand new black with white numbered uniforms. The first play of the game was a fumble by Otter Valley, which was recovered by OV for a loss. Moments following that play, senior Dylan Robinson scored after a 38 yard run within the first 3 minutes of his first game of the season.

Behind a powerful running/throwing game that accounted for all five touchdowns, the Middlebury High football team powered its way past visiting D-II Otter Valley, Friday night in a cross-division matchup.

A year ago, Middlebury defeated the Otter Valley varsity football team by a score of 41-14. On Friday, playing its fifth game this season, the Tigers were able to defeat an Otter squad that, two weeks earlier, had won over Montpelier's U32, 28-3.

The second touchdown was in the second quarter, again by Robinson after a 46 yard run to the end zone. Nick Felkl had the 3rd touchdown in the second quarter, after receiving a pass by Tyler Provencher who faked the hand off. The score was 21-0.
A third quarter 4th touchdown score of the evening happened with 9:50 on the clock, when Middlebury's Mitchell Clark crossed the line. Jordan Connor scored the final touchdown for the Tigers in the 4th quarter. Otter Valley made their first touchdown of the night with an 84 yard run in the beginning of the fourth quarter. Middlebury will play at Bellows free Academy in St. Albans next Friday night while OV will host Rice. The schedule is only going to become more challenging from here on in for the Tigers, as they also play Colchester and CVU in the up-coming weeks.

Check for game pictures at www.marcieboltonphotography.com


---
Advertisements
Search our Archives