Main Sections
Front Page
Sports
Valley Vitals
It's in the Stars
Starwise
Archives
Links
About The Voice
Contact Us
VUHS Lauds Janet Kepes As Teacher Of The Year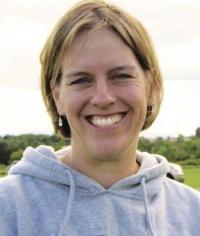 photo provided
Tuesday September 13, 2011
By Cookie Steponaitis
When she was little Janet Kepes had a "school" set up in her basement, complete with blackboards and desks and she knew she was probably going to teach elementary school when she was grown up. Fast forward to 2011 and you will find Janet Kepes in her element teaching German at Vergennes Union High School and loving every minute of it. The only difference is that this year started off with a surprise. Mrs. Kepes found out that she was selected by students and faculty as the 2011 Teacher of the Year.

Mrs. Kepes loved her own educational experiences growing up and openly shared reflections on many great teachers including her Physics teacher Mr. Smith. The most influential teacher was her high school German teacher Susan Austin. "She was amazing," reminisced Kepes. "She was enthusiastic, fun and even though I had German with her for four years, things never got boring. It simply was challenging and fun." Mrs. Kepes went on to earn her Bachelor's Degree at Middlebury College and her Master's at Southern New Hampshire University. As fate would have it, she did a semester of student teaching at Vergennes Union High School under Frau Joy Minns and now proudly calls herself a member of the Commodore Faculty.

Talking with several of her students, the German Exchange Program and the trip to Germany were additional bonuses of having Frau Kepes as a teacher. While Kepes remarked about the different culture, the experience of staying with families and the confidence the teens come away with from the exchange is summed up by her students more succinctly with comments including, "simply cool" and "life changing." Several colleagues questioned remarked about her tireless energy and leadership within VUHS as a grade level leader and team leader on several of the new initiatives VUHS has undertaken.

While Mrs. Kepes is very open in her remarks that teaching is not an easy career choice, it is one she recommends to the next generation of those seeking rewards that transcend time and a paycheck. She shares that with so much going on in the lives of teens today; learning can sometimes be the last thing on their minds. The role of today's teachers has increased to that of being coach, advocate, problem solver as well as teacher. She offers advice to new teachers just beginning in the classroom fresh from college, "There's so much to learn about teaching, no one is ever 'done' learning to be a teacher. Don't beat yourself up if you have a bad class or a bad day. It happens to everyone, especially being new. Teaching is the best profession because it is so multi-faceted. Teachers have to be creative, patient, problem solvers, life-long learners, counselors, coaches, cheer leaders. I don't think there is a job that's so challenging and rewarding."

Many of her colleagues and students remarked about Mrs. Kepes' involvement with VUHS new initiatives and her role in them. Kepes shared her excitement about the new use of teachers as leaders in program development at the school and remarked that, "I feel like teachers can take an idea and really run with it. One teacher had an idea about making graduation better, recognizing all graduates with more than a diploma and a handshake. Now our school celebrates each senior at Senior Night. It really shows the community that we value each student, not just those who walk away with a stack of awards."

Whether valuing each student, inspiring a love of a second language, shepherding a group of sometimes 30-40 overseas for a ten day adventure, sharing an idea or working collegially with others, Janet Kepes' dedication to her profession and her students has not gone unnoticed. For that reason and many more, VUHS proudly celebrates her as their 2011 Teacher of the Year.
---
---
Related Stories:

· VUHS Co-Principal Receives Honors As Vermont Secondary Principal of the Year

Advertisements
Search our Archives