Main Sections
Front Page
Sports
Valley Vitals
It's in the Stars
Starwise
Archives
Links
About The Voice
Contact Us
State DAR Meeting Honors Local Teen Writing Winners And Posts A Top Three In The Nation Finish For The Second Consecutive Year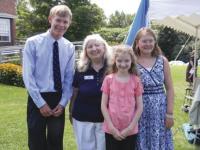 photo provided

VUHS Winner Nathan North, State Program Director Barbara Bolduc, Christ the King Winner Sophia Moore Smith and Homeschool Winner Hannah Pennock.
Tuesday August 16, 2011
By Cookie Steponaitis
The Daughters of the American Revolution, in addition to being one of the world's leading genealogical groups, has since 1890 had the same goals linked to American History. They strive " to perpetuate the memory and spirit of the men and women who achieved American Independence; - to carry out the injunction of Washington in his farewell address to the American people, "to promote, as an object of primary importance, institutions for the general diffusion of knowledge, thus developing an enlightened public opinion…"; and - to cherish, maintain, and extend the institutions of American freedom, to foster true patriotism and love of country, and to aid in securing for mankind all the blessings of liberty." Gathered at the John Strong Mansion on Thursday, August 13th, the DAR chapters from around the state announced and listened as areas teens read state and national winning essays based on the American History Essay Contest and the Christopher Columbus Essay Contest for 2010-2011.

Grade 5 Winner: Sophia Moore Smith from Christ the King School, sponsored the te Anne Story DAR Chapter wrote on the Memoirs of Paul Revere.

Grade 6 Winner: Hannah Pennock, Homeschooled, sponsored by the General John Strong DAR chapter wrote on the Memoirs of Paul Revere.

Grade 7 Winner: Joshua Sickles from Vergennes Union Middle School, sponsored by the Seth Warner DAR chapter wrote on the Memoires of Paul Revere.

Grade 8 Winner: Hannah Aubre Logsdon from Ludlow Town School, sponsored by the St. John de Crevocoeur wrote on the Memoirs of Paul Revere.

Grade 12 winner: Nathan North from Vergennes Union High School, sponsored by the Seth Warner Chapter wrote on the Lessons Learned from the Life of Christopher Columbus and took first place regionally and second place in the nation.

Any parent, student or party interested in the annual DAR sponsored writing contests should contact State Competition Director Barbara Bolduc, seen in the photo at Ferrisburgh Elementary School.
---
Advertisements
Search our Archives