Main Sections
Front Page
Sports
Valley Vitals
It's in the Stars
Starwise
Archives
Links
About The Voice
Contact Us
Welcoming Green Mountain Pet & Tack Supply To Ferrisburgh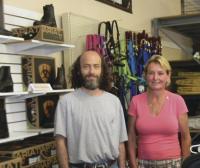 photo provided

Green Mountain Pet & tack owner Zev Langenauer and Donna Baldwin stand amidst the tack and clothing available at the new Route 7 location in Ferrisburgh.
Tuesday August 9, 2011
For Zev Langenauer, business as usual means centering in on the nutritional, comfort, care, and products needed to keep your pets and animals happy and healthy. Known originally to the people of Addison County as Green Mountain Obedience and Pet Supply, Zev has over twenty years experience teaching dog obedience classes in Addison County and is delighted to move from his previous location in Vergennes to the new Ferrisburgh location which offers him more space for his classes and products. Now known as Green Mountain Pet and Tack Supply the business offers an extensive selection of foods and products for all your pets big and small. Open now to the public is a state of art self –service pet washing area, designed for the comfort, safety and ease of the both animal and owner Additionally They will be expanding their current selection of services soon to include Doggie Daycare at their new location.

Open at his new location in Ferrisburgh, Vermont, Zev and his staff together have over 110 years in experience with horses, dogs, birds, cats, fish, small animals including rabbits and guinea pigs. Open seven days a week, Monday – Friday 8:00 a.m.-6:00 p.m., Saturdays 8:00- a.m.-5:00 p.m., and Sundays 10:00 a.m.-3:00 p.m., Zev and his staff of Shelley, Donna, Amber , Katy and Andrea offers a wide selection of products at competitive prices. Donna Baldwin who also has extensive equine knowledge and a Horse Studies Masters degree from Potomac Horse Center in Maryland showed this reporter around the store and showcased the diverse offerings available to meet the needs of all Addison County and Vermont equine owners.

"We offer products and tack for every discipline, level and need," shared Donna Baldwin,. "Whether the person is riding English or Western and is at a 4-H level or the show circuit, we have saddles, clothing, tack, boots, and products geared to their needs. We want people to come in and see what we have and know if we don't have exactly what they want, we can get what you need within one to two weeks."

Green Mountain Pet & Tack is happy to have paired with equestrian Karen Clark of Horse Works and carries her clothing line for riders.. Donna Baldwin has merged her own used tack business with Green Mountain Pet & Tack, providing even more choice to Addison County animal owners.

What started for Zev with his first pet Beagle when he was three and for Donna with her first pony at six has evolved into a lifelong mission to work with people who care for a wide variety of large and small animals. Zev Langenauer and his staff ask you to stop by their Route 7 location (formally Irwin's Tack Shop) and see for yourself or call them at (802)877-3200. The store is now open for business 7 days a week and devoted to the needs of animals and their owners. A formal open house is planned for August 20th.
---
Advertisements
Search our Archives