Main Sections
Front Page
Sports
Valley Vitals
It's in the Stars
Starwise
Archives
Links
About The Voice
Contact Us
Capturing Life In Oils: Time Spent With Sylvia Casey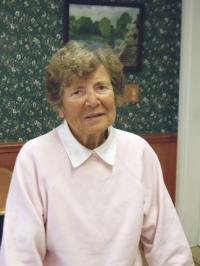 photo provided

Calling the Little City her home for her whole life, Sylvia shares memories of life in a small town and 64 years of marriage and family.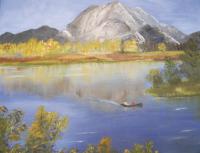 photo provided

Continuing a life long passion with oil painting, Sylvia Casey captures the grandour of nature and the memories of her life.
Tuesday June 28, 2011
By Cookie Steponaitis
Sylvia Yattaw Casey was born in Vergennes, Vermont in the 1920's and freely admits to being, "…bit full of mischief and enjoying raising Cain" when she was growing up. Born on School Street in a family with another brother and sister, Sylvia has called the streets of the Little City home her whole life. When asked about the positives of living in a small town Sylvia smiled and shared, "Besides it being comfortable and more familiar, there is a sense of helping each other that goes on without question or prompting. Once when I was a teenager I was taking care of my mother who was very ill at the time. It was night and my father was away at work. All of the women on the street came down and took over for me. They helped care for her and it was without my asking. They just knew I needed help and that is what neighbors do for each other."
Early in her life Sylvia met the man that would become another constant in her life. "It was in third grade when I met Martin," Sylvia shared. "We came up through all the grades together including high school. We didn't get married right away because Martin was in the military and was all over the world during World War II. He was in Europe and Japan. He finally was released from duty and came home in 1946. We were married that year. Now entering their 65th year of marriage, Sylvia and Martin have not only called Vergennes their home, but have raised four children in the Champlain Valley. Pamela is now a realtor,
Cynthia is the owner of a Jazzercise and Fitness Center, Tom is a pilot and Patty is a musician. Remarkably, when people see the couple together, Martin still introduces Sylvia to any newcomers as his bride."
Sylvia was introduced to painting early in her schooling and a passion was born. While she tried acrylics and water colors, her life was forever changed when she started paining in oils. When speaking of the process of creating a painting her faces lights up with enthusiasm and her voice changes to a tone of wonderment. Sylvia shared, "I love to get into oils and to mix colors. The feel, the texture and the ability to create on the palate and on canvas as been a passion of mine for over forty years. I simply adore painting." One look at her canvases shows any observer why. The colors and scenes reflect not only an intense eye for the hues of nature, but a sense of wonderment about the people and events she portrays with a brush. One can get lost in Sylvia's paintings and be transported across the world, the continent or to a tiny mountain stream just up the road and round the bend in rural Vermont.

Sylvia also sang in Glee Clubs, musicals and productions of all sizes in Addison County while growing up and continued to do so when she was married and raising her family. A member of the American Legion Ladies Auxiliary and other church groups, Sylvia remembers "… helping out" and being a part of many events the town has to offer. "I am basically a shy person," she shared, "and one of the scariest memories I have is when my art went on display at the Chittenden Bank. People were asking to meet the artist and I was trying to hide behind every potted plant I could find. It is not like me to be in the limelight. I just simply love to paint and to help out."

Whether in person or through her art and her children, Sylvia shows life and love for those around her with a passion. Rooted in her city, marriage, family and her love of the arts, she continues as she has always done to capture the moment in oils and to preserve it for others to see and share. "I'm not really sure what you want to write about me for," as she concluded the interview. " I simply lived my life and enjoyed it." Joy is a word that best concludes the interview and the sharing of memories with this talented life long resident of the oldest city in Vermont. The Valley Voice salutes Sylvia and her family for living a life of commitment to family, friends and life in a part of the Green Mountain State seeped in the traditions of community and caring.


---
Advertisements
Search our Archives