http://www.vvoice.org/?module=displaystory&story_id=2320&format=html&edition_id=281
Vergennes Farm Day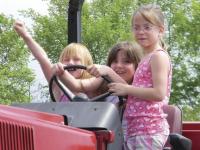 photo provided

Celebrating the event, local children sit atop a tractor and dream of what they will plant!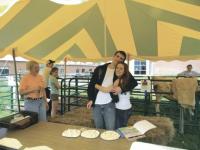 photo provided

VUHS FFA members Arie Smits and Anna Jo Smith pause to smile for the camera during a busy event day.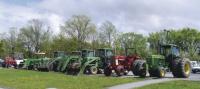 photo provided

Tractor row in the VUHS parking lot testifies to the equipment use and cost for farmers of being in the farming business.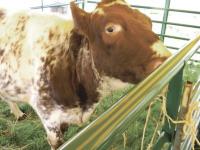 photo provided

This bovine seems to know that the town is watching and she is looking back at them.
While the evening news tells the increasingly alarming statistics of the decline of the Vermont Family Farm, there was no sign of that on Friday, May 21st at the Farm Day in Vergennes. Gathered from around the area, FFA students, local farmers and a host of agricultural businesses showed the area that farming in indeed alive and continuing in Vermont. For children it was a time to play in the sun and share in the bounty of fresh milk, produce and to see the animals. For all who attended, it was a reaffirmation of the dedication to agriculture and the farming traditions in Addison County.

© Copyright The Valley Voice
< Back
Print