Main Sections
Front Page
Sports
Valley Vitals
It's in the Stars
Starwise
Archives
Links
About The Voice
Contact Us
VUHS Band And Chorus Excel in Philadelphia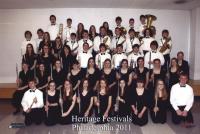 photo provided

VUHS Band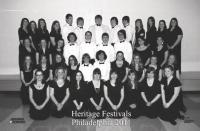 photo provided

VUHS Chorus
Tuesday May 10, 2011
By Cookie Steponaitis
If you measure the contents of a trophy case as a sign of the strength of a school program, then the music program at VUHS has a delightful new problem. They simply need to build more cases to hold the latest in a series of trophies earned at music competitions around the United States.

The latest of these competitions took the combined band and chorus to Philadelphia, Pennsylvania from April 7th-10th. In addition to the year long program of concerts, local, state and New England level competitions, these adjudicated competitions add another layer of performance for the students.

"The judged competitions provide incentive for the students to work very hard to perfect their music," remarked VUHS Choral teacher Karen Jordan. "Judges listen to us while looking at the music and write and record comments based on what we do on stage.
These judges are usually college professors and are quite knowledgeable. At the conclusion of the performance, one of the judges works with the group to give them some new technique or idea to improve the group's performance.

Sue O'Daniel had taken the band on several of these trips before I started working at VUHS. I thought that the choral students should also have the opportunity and joined in the next scheduled trip. I have taken the chorus to Annapolis, Cleveland, Williamsburg, Orlando, and Washington D.C. and most recently to Philadelphia."

Senior Ann Clancy has been a part of the Commodore music program since middle school and has been a participant of the New York City, Washington D.C., and Philadelphia competitions during her student career. In looking back at her involvement with the music program, she shared not only her love of music in general, but the levels that different aspects of the music program have helped her reach and flourish at. "Chorus has provided me with a very different way of learning. Music also allows me to express myself and has taught me to become a more confident performer," commented Clancy. "I practice fairly often. We have two pianos in my house and both my brother and I know how to play so it's pretty easy for us to practice. This year we got a program called Smart Music which allows students who don't have a piano at home to hear their part, other parts, or the accompaniment when they're singing. I think Smart Music is a great opportunity for students and will really encourage kids to practice more often! Learning to sing is really intimidating, but EVERYONE can learn to sing and sing well- I can't stress that enough! If you hum when you walk your dog- join chorus, if you sing in the shower- join chorus, if you love to watch musicals- join chorus! It's so much fun and by the time you leave high school you will be able to read notes, sing harmonies, sing in different languages, and perform in front of your peers."
For 33 years veteran music band teacher Susan O'Daniel the latest competition continues her long held belief in seeking out music experiences for her students that enrich and deepen their appreciation and understanding of music. With VUHS's current offerings of Symphonic Band, Middle School Concert Band, Commodore Jazz Ensemble, Jazz Jammers, World Drumming Class, Instrumental Music Class, MusicTheory/ History I and II, Commodore Pep Band and the Musical, Mrs. O'Daniel first began her push to these extra competitions in 1995. "I had a great band that year, and I wanted to do something special with the students," reflected Mrs. O'Daniel. "The band director at Spaulding HS and I were in a brass quintet. He told me all about the Classic Festivals that he did with his band, and he recommended that I try it. Before that time I had been doing exchange concerts with schools in Vermont, Massachusetts and Connecticut. I was in search of a musical activity that would encourage a deeper study of band literature, and an opportunity to reach for a higher level of musicianship. Performing at a competitive music festival stimulates me, as a teacher, to think outside of the musical box in order to help my band students become better musicians. Performing for college music educators that are looking at the score, and making comments while you perform is very intimidating, and it makes the band focus and play their personal best."

" That was a goal that we had as a band - to improve our musicianship. The judges also enjoyed the selection of music for the ensemble. They all felt that we needed to continue to work on the balance of the band. But in a small school, it is difficult to find three or four students to play or afford three or four tubas! The Symphonic Band was awarded First Place Gold with a score of 263 points in their division. The band was also awarded the "Outstanding Band" trophy for the festival, which was very exciting!"
As with any project of this size, there has to be groups in the wings making the funding possible. Both Mrs. Jordan and Mrs. O'Daniel credited the incredible support of the Friends of Music Parent Group and the local civic organizations including the Vergennes Lions and American Legion Post # 14 for their generous support of the program. "Music education in the ANWSU is a wonderful gift that the community gives to the students," summarized Mrs. O'Daniel. "Music is a part of every person's life every day. To be able to understand the language of music and perform in a band or chorus enhances the education of a child. Students in band and chorus are able to perform alone or in an ensemble. They have an opportunity to play a variety of styles of music. Music students understand what it takes to get to a high level of performance, through hard work and commitment."
So, one more series of impressive trophies join the rest in the Commodore Music Trophy cases as yet another music season begins to wind down. Yet, in those notes, those moments, those scores and the countless performances around the state and America, lays a deeper story. Generations that calls Addison County home are a part of a tradition that binds families to three commonly assumed concepts: 1. VUHS's music programs take each student to a new level, understanding and commitment to the world of music, 2. The professionals that lead the journey are some of the best in the business, and 3. Music is universal and a part of all lives and goes far beyond the wave of the baton, the melodic harmony of the last note, and the newest trophy added to the case. It is a bond that lasts for a lifetime!
---
---
Related Stories:

· The Sky Family's Celtic Revival

Advertisements
Search our Archives