Healing Hands: Vermont's History Holds Heroines
By Cookie Steponaitis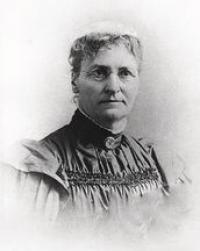 photo provided

Leading the way, Vermonter Linda Richards became the first American to graduate from a nursing program and then went on to revolutionize how nurses are trained.
All of us have at one time or another turned to a medical professional for help, whether it is a doctor, nurse, optometrist, dentist, midwife or healer and been met by people with caring, knowledge and skill that continues to develop and change as technology allows us more windows in which to view the world of human anatomy. While many Vermonters know the facts of Vermont leading the way in agricultural inventions, abolishing of slavery and being at the forefront of many important issues in American history, few have heard of Linda Richards who not only entered the nursing field, but also led the way for millions who have followed.

Most Americans know of Florence Nightingale and give her credit for being at the forefront of establishing clean surgical practices in the wards following America's bloodiest four years from 1861-1865. Few have heard of Linda Richards who was born in Potsdam, New York, but moved to and attended school in Barton, Vermont. At first Linda followed traditional career paths and worked in a broom making shop. Her future changed when she began working at Boston City Hospital in 1870 and found there was little or no training for people. When she entered the field nurses did not serve in all capacities in the hospital and were limited in the scope of their duties.
Determined to see change, Linda created and pressed for a formal training program for Boston nurses and then began to expand her work in New England. She served as the superintendent of nurses at hospitals in New York City and Boston and went overseas with Florence Nightingale to study nursing techniques in England and Scotland during1874-1877. During the course of her thirty plus years in the field, Linda Williams opened nursing schools in Philadelphia, Boston and in Japan through the American Board of Foreign Missions. Her mission was a personal one because her mother died when she was a young teenager and she was sent to live with her grandfather and attended boarding school in Vermont.
Richards, like Nightingale, was not content with practices staying the same and continually strove to improve and expand the training of nurses in America. By studying abroad she was able to incorporate into her training programs ideas and proven practices from Europe and Asia. During the time frame of 1897-1899 she headed the nurses training program at the University of Pennsylvania and was able to redefine the role of the nurse in the local hospitals and in the eyes of the doctors who came to depend on them for their training and growing role in health care. Richards' training programs included the levels of student nursing and the training of nurse supervisors and eventually the director of nursing at each program she worked in. By the end of her career in the 1920's, she had worked in over fifteen states, three nations and had directly impacted nursing in America for the future.
While Vermont did not develop a school of nursing until the Mary Fletcher Program opened in 1882, Linda Williams graduated from the New England Hospital for Women and Children Training School for Nurses and officially becomes America's First Trained Nurse in 1873. Honoring this determined and dedicated Vermonter, the National League of Nurses created the "Linda Richards Award" in the early 1960's to honor nationally a nurse who makes a lifelong contribution to the field of nursing. While Vermont today boasts a host of trained nurses in all fields of health care, many do not know of this strong willed and feisty Vermonter who took the formal training process of nurses to a new level not only in New England, but around the world. Healing hands coupled with demanding standards and rigorous training place Linda Richards at the forefront of the nursing movement and earns her a spot in the annals of Vermonters committed to helping others and leading the way. Her book Reminiscences of Linda Richards was re published in 2006 and she was inducted into the Women's Hall of Fame in 1994.