Main Sections
Front Page
Sports
Valley Vitals
It's in the Stars
Starwise
Archives
Links
About The Voice
Contact Us
Caroline Yale: Champion For The Deaf In America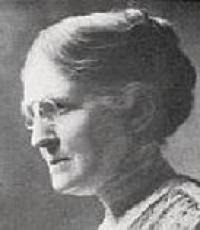 photo provided
Tuesday December 14, 2010
By Cookie Steponaitis
Tucked away in the annals of American history are people who don't get the front page headlines, yet were on the front lines of instrumental change in the lives of Americans both past and present .One Vermonter that fits this description is Caroline Yale, who was born in Charlotte, Vermont in 1848. During her life and career Ms. Yale created an educational system for teaching speech to the deaf. She was one of the founders of the American Association for the Promotion of the Teaching of the Deaf that resulted in changing the American perception that deaf people need not learn language as part of their education.
The Yale family roots date back in Vermont history to 1637 and the family continued to work the same plot of land in Charlotte for over two hundred years. When Caroline was born, her homestead was on the same site of the log cabin that her grandfather had built in 1783. One of five children, Caroline was raised in a faith based household and was educated at home by a college graduate tutor. At a young age Caroline actively sought the printed word and was one of the more enthusiastic members of the family when it came to schooling. She attended Mount Holyoke College at the age of 18 and had to abandon her plans for a college degree when she was called home to care for her terminally ill mother.

Teaching for Caroline began in a one room school in Brandon, Vermont and consisted of 60 pupils in all grades. She was devoted to her students but felt constrained by the circumstances under which she taught. She wanted a different challenge and fate intervened. On a chance meeting with Harriet Rogers, who was then the principal of the Clarke School for the Deaf, a bond was forged that would carry Caroline Yale through the next six decades of her life and would set the stage for her incredible contribution to the education of deaf people around the world.

Her methods were radical for the time and centered on each student as an individual learner. Caroline Yale felt that deaf students needed more than sign language that allowed them to communicate only within a deaf world. She believed in lip reading and speech for each student and created a method for instruction that she would revise over the years and teach to hundreds of other teachers around the nation and world. In short she based her system on the twenty-six letters of the alphabet and had them stand for more than forty sounds in the language. Her first pamphlet on the program "Formation and Development of Elementary English Sounds" was published in 1892 and immediately the program sent ripples through the educational community.

Caroline Yale took over the position of the principal of the school and continued to serve as the Headmistress of the Clark School until her seventy-fourth birthday, giving the place a total of fifty-two years of her life. Never one to stop or rest on her own merits, Yale traveled around Europe and studied other deaf education programs and integrated what she felt were the best parts of these programs into her own. Several of her students were notable, including Mabel Hubbard who married Alexander Graham Bell, and Grace Goodhue who later married Vermont president Calvin Coolidge. Yale's work reached a national level of recognition.

One of her most important contributions was the creation of the Northampton Vowel and Consonant Charts which were the foundation for her teaching programs. Translated into many different languages, these charts served as anchor points for deaf education long after her death. All throughout her career she struggled to change societal views about the isolation of deaf individuals and asked pertinent questions like "Should deaf people live in separate schools and communities? Should they use spoken language? Should they have more contact with the speaking world? How many teachers to students should they have in the classroom? Which was more important to teach first, reading, speaking or writing?"

In addition to changing minds and teaching students, Caroline Yale was in a continual battle to raise the funds to keep the doors of her school open. Never content to have limited resources for her students or teachers, she became a forceful advocate for the deaf community and even presented her arguments in corporate American boardrooms and to people with considerable wealth and power at a time when women were still respected for their duties in the home. While noted for her level of excellence and fierce devotion to her students, Yale was also praised for her "serenity, charm of manner and beautiful speaking voice, together with her tact, wisdom and courage." While granted many college honorary degrees in her lifetime, Yale wrote in her autobiography Years of Building: Memories of a Pioneer in a Special Field of Education, that her pride was in her students and their impact on the lives of deaf people around the world.

True to her goal, Caroline Yale died in 1933 knowing that not only were there over two hundred schools for the deaf in America alone but that her method for deaf education was used in most of them and on the other side of the Atlantic Ocean as well. Rooted in the Vermont heritage of ingenuity, frugality, resourcefulness, and perseverance, her path took her from Vermont, to Massachusetts, to the educational institutions of Europe and even to the halls of the White House, but in the end Caroline Yale preferred the classroom and her students above all else. She encouraged her teachers to see each student as an individual and to craft their lessons to encourage and foster individuality and creativity in each of them. Rather than create a mold into which all deaf individuals were placed, Yale pushed for the realization that not only did deaf students need the same individual focus of their speaking counterparts, but within these students laid future leaders of America. While history missed her name, deaf education today carries on her legacy as a living tribute to a Charlotte, Vermont woman with a vision for change that altered the lives of deaf individuals around the world.
---
Advertisements
Search our Archives