Main Sections
Front Page
Sports
Valley Vitals
It's in the Stars
Starwise
Archives
Links
About The Voice
Contact Us
Sharing Memories With Mary Peet Green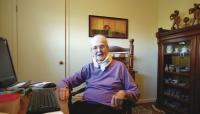 photo by David Levingston
Tuesday October 26, 2010
By Cookie Steponaitis
When Mary Peet made her entrance into the world in Cornwall on July 6, 1915, she was part of a heritage stretching back to the very first settlers and original grants of land in 1775. She heard fascinating stories from her father about the original settlers when she was growing up on her parent's farm, the American Revolution, changes in the land and her family's links to the proud traditions that were Cornwall. One story that was memorable for her even at a young age was the story of her great-great-great grandmother fleeing Indians and Tories after the fall of Fort Ticonderoga and her giving birth to her daughter on a raft in the middle of Otter Creek in the midst of the evacuation.

Sharing memories with Mary Peet Green is an awe inspiring task, for not only do her roots and knowledge of local history run deep, but her own life's adventures span three continents and include a passion for history, family, equitation, writing and teaching. At ninety-five years young Mary continues to set her own agenda, live on her own, and is in the process of writing the latest of three books. Computer savvy and connected to her family and grandchildren by email, Mary travels the Internet for research, interest and to continue her passion for knowledge and learning.

Contrary to her present openness and conviviality Mary was painfully shy of people as a child. "I really had no one to play with growing up," she shared. "We lived at the end of the road and my brother was ten years older. I truly was afraid to meet people. It took me years to get up the courage to meet and talk to new people." While Mary was growing up at the end of World War I, she attended a one room school house still located on the corner of Peet Road and Route 30. "I walked a half mile each way to school," recollected Mary, "and my great-grandfather helped built the school. My best teacher was my first grade teacher and we had no textbooks. She taught us with a chart and flashcards, but made the learning an adventure. Each morning before school I would play with my calf, Silky and I also had time for all of the horses on the farm."

Mary's own interest and skill with horses began as something of a sibling dare and evolved into a life time of riding and working with horses. "As a child," Mary shared, "my brother was known for his, shall we say bad luck with horses. They ran over him, bit him, tripped him up and just plain threw him. He would tell me to get on and ride, so I had to show him. First I rode him around, and then I ran him. One special horse we had was a beautifully gaited horse. I would come home after a ride and go to my mother who would pet and make over the horse. Then my father would come and he would pay a little attention, but if I turned the horse toward my brother he would say, 'Get that animal away from him. You know what will happen'." Mary went on to enjoy her passion for riding her whole life and did not actually actively retire from riding until she was in her seventies.

Mary met her husband Caspar Green on a boat to Puerto Rico where she had taken a teaching job during the Great Depression. "Those were rough years," Mary remarked, "there weren't any openings here in Cornwall, but they were clamoring for teachers in Puerto Rico. They wanted to teach the people to speak English. So, I went." Once in Puerto Rico, Mary taught History and English and developed her love of both. She and Caspar were married in Puerto Rico where their son Edward Peet was born. Mary and Caspar moved many times including to Haiti, Chile, Brazil and returning to Cornwall to live in 1973. Those years not only broadened Mary's experiences but added to her resolve to record and preserve the unique stories of life in Cornwall that she had heard as a child.

In 1993 Mary Peet Green wrote Cornwall People and Their Times, which is a collection of the stories told to her as a child and her own extensive research into the area. When asked to share some tidbits of local history Mary was perplexed as to which to share. "There are so many," she remarked. "Well, I don't believe that most people know that when the town was started one requirement of all people who came to settle here was that they had to be able to support themselves. Another period of the history is marked by disputes that divided elections based on Catholics and Protestants. It was really bitter and as it got to the election for the representative my father suggested to the town, 'Every year you fight. This year there should be no fighting. If a Catholic wins this year, then the next election it should be a Protestant'."

After pausing just for a moment, she turned the conversation to yet another direction and shared that Abram Foote of Cornwall started the Cooperative Insurance Company and established firm ground for the cooperative company. He had to go against the banking and insurance industry but remained firm in his efforts. Yet another milestone in the town was the fact that the town was deserted from 1778-1783 and Silas Goodyear Randall, a minister living in West Cornwall in the 1849's invented the disk harrow. Winding up the conversation with stories of Diadamia Stebbins the first settler to Cornwall in 1775 and Sarah Guernsesy, Cornwall's first woman to graduate from college, she continued to share stories faster than the pen of this reporter could keep up.

"I truly have lived through a Renaissance in history," Mary stated. "When you examine the life of my generation, you see a true Renaissance in travel, health care, communications and in technology." While she admits to slowing down a little bit, the budding author shared that "being very organized" helps a lot and that she is at present working on her third book simply entitled At 95 which is a memoir of her life. Glancing out her picture windows of her Cornwall home, built on a hilltop picked out by her father long ago, Mary is ninety-five years young and still going strong. Her first book Cornwall People and Their Times (1993) is available at the Cornwall Town Clerk's Office and her second book History of the Cornwall Congregational Church (2003) is available through contacting the Congregational Church. "Our homestead had been in the family since 1775," Mary shared proudly, "and my son still owns it." While the town may have to wait a little more for her third book to come out, Mary still loves to share her knowledge, her passion for history and her intense pride in the town her family has called home for many generations. While she continues to watch Cornwall and Vermont change she is not on the sidelines but immersed in the technology that allows her the time to focus, research and write. "Just send me an email," she concluded when the interview came to a close. "I'll get right back to you."

Sitting with Mary Peet Green on a fall afternoon with the town of Cornwall laid out in autumn splendor in the valley beneath gives more than a glimpse into the draw of this area to people like Mary, who have traveled the world and still call Cornwall home. There is a bond, a heritage and strength of ingenuity and storytelling tying one generation to the next and to the land and traditions of valley so many call with pride their home. The Valley Voice salutes Mary Peet Green and hopes for a copy of her newest book when it comes out.
---
Advertisements
Search our Archives