Main Sections
Front Page
Sports
Valley Vitals
It's in the Stars
Starwise
Archives
Links
About The Voice
Contact Us
Meet Roman: A Truffle Dog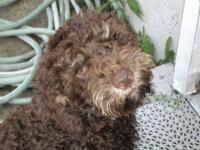 photo provided

Loving the camera, Roman pauses to share the unique gaze and form of a breed originally from Italy and now making its appearance in America and the Champlain Valley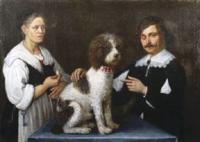 photo provided
Tuesday August 24, 2010
By Cookie Steponaitis
Before getting visions of a dog that searches out chocolate desserts and delicate treats, the truffles in question are fleshy, edible fungi of the genus Tuber that grows on the ground and near roots of trees in specific regions of the world and are valued as a delicacy. Roman, is a Lagotto Romagnolog, a rare and specialized breed of dogs from Italy that is the only breed in the world bred to track down truffles. The Lagotto is a medium sized member of water-breeds, with incredibly tuned tracking skills. The truffles often grow in remote regions in Europe, and Lagottos are able to locate and retrieve the precious fungi, which often sell for hundreds of dollars on the world market.
Dating back centuries to the establishment of trade routes between Italy and the Orient, the ancestors of the Lagotto were water dogs raised and trained in the Italian peninsula throughout the Middle Ages and Renaissance. The history of the region documents the use of middle sized curly haired dogs that were used to retrieve a variety of water fowl. They are primarily to the history of a group of people called the Vallorli or Lagotti, and were constant companions of hunters in marshlands and were also trained to find truffles. Written accounts of the time tell of the dogs working for hours at end, diving and retrieving game birds in the marshes, swamps and then going out on hunts for truffles. This diligence, coupled with an incredibly developed sense of smell, earned the breed fame and even documented its name. Lagotto Romagnolog is in reference to the early job of " water dog" and the area of Romagna where the breed lived. The hunting patterns of the region changed during the time period of 1840-1890 and the dog became specialized in finding truffles, and the breed became even more rare and unique. Breed at first only in that region of the world, Lagotto Romagnologs were virtually unknown to the rest of the world until the 1970's when a group of breeders began to establish the breed across four continents and set in motion a plan to save the endangered breed, which began with a genetic reconstruction program to document the historic path of the dog.

While Roman, who lives with his own Bronwyn is blissfully unaware of his unique heritage and his being one of only couple hundred dogs in America, he none-the less captures your immediate attention with his playful nature and his unique look. "I have never met a dog with this type of personality, shared owner Bronwyn. " He appeals to me because he is independent, loves everyone, shows no fear or aggression towards people or other animals, highly inquisitive, intelligent, and loves to dig. He is easy to train, loves toys and any tracking game. People are very taken with him. Had dinner with friends last night - and the whole conversation was about Roman. How he looked, how attentive, how well he took direction, and how well he does with children ,especially infants. The Lagotto's eyes are very human, they have an intense stare. The breed standard is 45 pounds, and 21" in height (at shoulders) when grown, and come in a variety of mixed brown and cream combinations. They are documented in art work as far back as the Renaissance, and are widely acknowledged in Europe as a faithful, comedic, and hearty companion. They are not accepted by the AKC, and have a loyal, if not obscure following. The Lagotto Association of America is very serious about maintaining the integrity of this breed."

While Bronwyn's passion for Lagottos began four years ago as the family looked to re introduce dogs into their lives, it is amazing to see how much press and interest has been generated in the past few months on this remarkable and basically unknown breed. Animal Planet devoted an entire special to the breed and flew to Italy and went into the hills watching the Lagotto's perform the search for truffles that have earned them acclaim. Bronwyn is not surprised by the interest and feels that it is well deserved. "The breed is traditionally calm, and extremely sensitive by nature," she added. "They do not respond well to yelling, or EVER being hit. They are not alarmists, rarely bark, like to be with you, not on you (not a big lap guy). Extremely bright, alert, responsive - and ready to swim at a moments notice, they are an incredible breed and will never let you down."
Gazing at Giovanni Francesco Barbieri's 1600's painting, shows a perfect example of Roman's famous ancestors and strengthens again the old adage that dogs are man's best friends. Over the centuries working dogs of all sizes have been trained to complete tasks that are both unique, specialized and often dangerous, each time rising to the challenge presented with heart, passion and skills that make them uniquely suited for the job.

Easy to train, and gifted with a tremendous concentration and sense of smell, Lagottos need to have room to run and to be exercised on a regular basis. Great with children and families, and are gaining ground around the world as not only one of the foundational breeds of dog in Europe, but a unique and wonderful breed with many possibilities in the role of working dog, show dog and family pet. Roman would seem to agree with that, as he gazes at the camera with curiosity and yet a stance and look that links him to a wonderfully unique past, making him one of Vermont's unknown treasures.



---
Advertisements
Search our Archives