Main Sections
Front Page
Sports
Valley Vitals
It's in the Stars
Starwise
Archives
Links
About The Voice
Contact Us
A Joining Of Hands: VUHS Community Service & Testing Days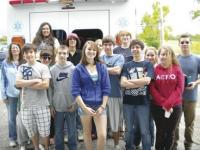 photo provided

Karl Steen and his morning meeting establish a long term plan with Vergennes Rescue Squad to work together each year during the community service days and for special events.



photo provided

Morgan Kimball and Amanda Delphia work with others at the Bixby Library.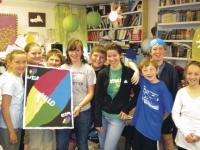 photo provided

Seniors Medeith Bienvenue and Kim Pratt surrounded by the children of Addison Central School return to their roots.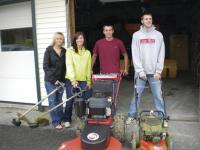 photo provided

Seniors Molly Brigan, Rikki Cloutier, Logan Williams and Connor Merrill use some equipment to tackle the trails of the outdoor classroom.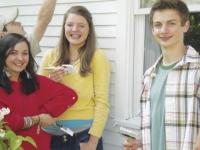 photo provided

Sophomores Daisy Alexander, Hannah Curler and JJ La Fountain stop work on painting the home of a local individual in Ferrisburgh on Thursday, May 19th.
Tuesday May 25, 2010
By Cookie Steponaitis
Across the five towns that make up ANWSU the message was the same but the scenes were very different on May 18th, 19th and 20th. In classrooms around the school two hundred students in grades 8 and 11 sat in silence, pencils at the ready and completed the NECAP science tests for ninety minutes a day. Out in the community, five busses took four hundred students grades 7,9,10 and 12 to fifty sites where they painted, raked, weeded, planted, cleaned, toured and learned about different facets of the community they call home.
Currently in its third year at VUHS, the Community Service, Learning and Testing Days are a conscious plan to marry the need for the best possible testing situations for students and the VUHS school wide plan of leading by example in establishing links between the students, the community, and the schools that they once called home. With the theme of "Back to their Roots" the senior class of 2010 led the week by returning to the local elementary schools they grew up in and with the children created floats that will be in the Memorial Day parade. Senior Tara Healy shared her time with Ms. Elaine Pentalari's room and felt the following about the experience, "For me personally, because my first theater experience was in her room, it was fantastic to return to her room and share my stories of how poetry, music and theater began with elementary school. The exploration of those creative aspects at such a young age helped me to develop and to grow toward my career path now which is dramatic writing." Senior Brittany Warner was struck with how open and secure in meeting new people the students in Ms. Mullis's room were. "I could really see how their morning meeting was working for them. They were not only willing to meet me, but we had a wonderful time writing stories and sharing them aloud. You could see the skills they were learning and how excited they were to meet seniors and share with them." VUHS Seniors Tiffany Roberts and Brittany Nolan returned to Addison's second grade and their own teacher Karen Florucci. When questioned about returning to their roots, Tiffany said, "It was fun. It was great to see how things were the same and how it had changed. There is that small, tiny community feeling in each room and they were very open to work with us. We made a human body and did show and tell about what they had learned. I think that each senior class should complete this task, because it allows us to give back to those who gave us our start and you see yourself coming full circle."

While some experiences linked generations, others linked students to specific sites and the land. The morning meeting of Karl Steen worked at the Vergennes Rescue Squad site and made a bond that will last for three more years. "The Rescue people and the students are really excited," commented Mr. Steen. " We are asking to make that our annual site and will return there each October and May to work with them on projects. To see how our work benefits others was powerful." Joining the groups that have developed links lasting years, Mr. Matt Deblois' morning meeting once again went to the Lake Champlain Maritime Museum and worked on projects with them.

Sophomore Bayli Bienvenue was one of the workers at the Bixby Memorial Library and was very enthusiastic about her experience. Bayli shared, "We worked at the Bixby Library and moved books on to a trailer for two days and we put bar codes on books for them and returned them to the shelves. Casey Shea and I actually volunteered to go back and to help outside of the school. It is a beautiful building and a great place to be."

Ben Rao and other sophomores were more involved in working with the earth, soil and plants. He remarked, "We went to the Flower Power farm in Starksboro and worked, threw hay bales and started building a log castle for keeping trash from blowing away. We also collected chicken eggs and weeded some large gardens. I would love to stay there all day today." Throughout the three days, seventh graders went to the Job Corps in Vergennes and toured all of the diverse trade offerings and programs there.

While it is impossible to capture the essence of the smiles, handshakes and connections made over the three days, it is important to note that the structure, purpose and goals of the programs are ongoing and continuing to evolve each year. Community Service Lee Shorey and the student representatives from each morning meeting spent countless hours making contacts, planning activities, and compiling a transportation grid that would make most bus coordinators run in fear. With a growing circle of locations and partnerships, there is neither shortage of work nor shortage of people willing to have the students come and work at their sites. Each year the hands of six hundred are joined in a common bond, to serve, to give back and to link generations in the practice of being a community.

---
Advertisements
Search our Archives