Main Sections
Front Page
Sports
Valley Vitals
It's in the Stars
Starwise
Archives
Links
About The Voice
Contact Us
Middlebury Arts Walk Teams Up With The Hospice Not-Just-Art Auction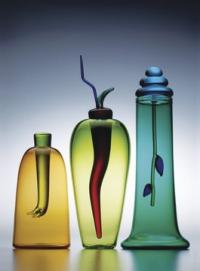 photo provided

John Chiles' dramatic glasswork can be seen at The Gilded Cage on Main Street during the Middlebury Arts Walk, Friday, May 14, 5-7 pm.
Tuesday May 11, 2010
Middlebury asserts itself as a top cultural destination on Friday, May 14, when the Middlebury Arts Walk sets the stage for the annual Hospice Volunteer Services Not-Just Art Auction.
The Arts Walk, now in its second year, takes place on the second Friday of the month, from April through October. With 32 stores, galleries and restaurants participating, the Middlebury downtown is filled from 5-7 pm with crowds of people hopping from place to place to view a wide range of artwork. Admission to all venues is free.

Among this month's offerings are John Chiles' dramatic and colorful glasswork at the Gilded Cage; a show of nationally-known potters who've also served as teachers at the Middlebury Studio School; Stephanie Larsen's reverse glass paintings at Noonies Deli; and a new addition to the Arts Walk, Danforth Pewter on Seymour Street, which will open both its gallery store and workshop.

Middlebury's galleries will be open as well, including the Edgewater Gallery, the Art House, the PhotoPlace Gallery, and the Jackson Gallery at Town Hall Theater.

Town Hall Theater is the new venue for the Hospice Not-Just Art Auction. The popular event, held for many years at the Basin Harbor Club, comes to Middlebury for the first time. Preview and silent audition begin at 6 pm, with the live auction, dessert and drinks at 7:30 pm. Expect photography, pottery, fiber, jewelry, quilts, sculpture and more. Music and dancing begin at 9 pm. The entrance fee is $25 at the door, which goes to support the vital work of this local institution.
---
Advertisements
Search our Archives