Main Sections
Front Page
Sports
Valley Vitals
It's in the Stars
Starwise
Archives
Links
About The Voice
Contact Us
Pilot Gig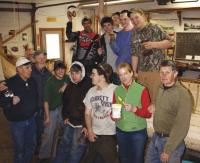 photo by Joe Schmidt

Staff , students and volunteers from the Lake Champlain Maritime Museum and the Diversified Occupations Program of the Hannaford Career Center in Middlebury with the 32-foot pilot gig they are building. Planking has been completed and ribs installed.
Tuesday April 6, 2010
By Joe Schmidt
A surprising number of small boats are constructed in Vermont, even though it is the only New England state without access to the ocean. Many are built at the Lake Champlain Maritime Museum.Two hundred years ago, when cargo ships driven by sail reached a harbor, they would wait offshore for a guide to lead them past shoals and other dangers. The Pilot Gig, a small six oared craft, was often used even in turbulent seas, to transport a mariner with local knowledge to the waiting vessel.

Each spring In a corner of the museum grounds a large shed hums with activity. Students from the Hannaford Career Center spend five months constructing a pilot gig following the lines of the 32-foot craft "Treffry" built in 1838 by William Peters of St. Mawes, England
They use wood selected a year earlier in nearby forests. Cut with a portable mill, it is stacked and allowed to dry for twelve months.

The assembly process begins with the exterior surface of the gig. Long overlapping planks are fastened together with thousands of copper clinch nails. To stiffen the hull oak ribs are placed every six inches and secured with rivets. On this year's craft still to be added are seats, rails, oarlocks and other stiffening members.

Boat names and color are chosen by the student builders - previous selections included Red Wing, Triton, Northern Sun, Firefly, Bow Fin, Osprey, Eclipse and Crouching Lion

The Lake Champlain Maritime museum assigns three skilled marine artisans from their staff to work with the students on a full time basis - Nick Patch, Lianna Tennal and Kerry Batdorf

A well kept secret , not know until launch day, May 20, is the delicate , decorative work on the rudder designed and constructed by volunteer Geoff Kerr - owner of Two Daughters Boat Works in Westford, Vermont.

Additional volunteers are generous with their time, working with the students one or two days a week - Ed McGuire, Jon Woodbury, Henry Geller, Al Stiles and Don Dewees.

Once complete the boats become part of the museum's rowing program. More than 400 adults and students participants in this activity annually.
---
Advertisements
Search our Archives