Main Sections
Front Page
Sports
Valley Vitals
It's in the Stars
Starwise
Archives
Links
About The Voice
Contact Us
Hats From The Heart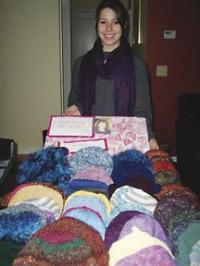 photo provided
Tuesday January 19, 2010
By Alexandra Larrow
In November 2005, the Valley Voice ran the initial article about Hats From the Heart Inc, the organization my mom and I had started together that year. We began Hats From the Heart Inc. in memory of mom's dear friend Donna Kilbourn Otis who passed away from breast cancer in 2005. We wanted to find a way to give back to the community Donna was a part of. Our goal was to donate 100 hand-knit hats to cancer patients across Vermont. We met that goal within just a few weeks. 4 years later, that number has grown to over 1,000! Simply put, this incredible feat is a result of the dedication and love within this community. We have sent hats to Massachusetts, New York, North Carolina, and anywhere else our friends and family have asked. The outpouring of hats has not ceased since we began this adventure, and we hope that continues. Today alone we picked up 43 hats from Knits and Bolts in New Haven! We can't thank Jean Clark, the owner of Knits and Bolts, enough for all of her support over the past 4 years. Using Knits and Bolts as a central drop off point has been invaluable to the success of Hats From the Heart Inc.

This journey has proven that our community is one of the most loving and dedicated imaginable. The majority of hats we receive come from complete strangers. We are so thankful for each and every person who has donated their time, money or yarn. The smiles you bring to the faces of our recipients would brighten anyone's day. Mom and I always marvel at the care and creativity used in each and every hat. They are all shapes, styles, colors and sizes just like the individuals who receive them.

We have surpassed any goal we've ever set for Hats From the Heart Inc. and we cannot wait to see what 2010 brings. Right now, we are working on designing a website, bringing our organization to other groups within the state, and trying to collect as many hats as possible. Knits and Bolts at the junction of Routes 7 and 17 in New Haven has a drop box for any hats you would like to donate. If you would like any additional information or to schedule a pick-up, please contact Alexandra or Nancy Larrow at 877-2998 or [email protected].


---
Advertisements
Search our Archives