Main Sections
Front Page
Sports
Valley Vitals
It's in the Stars
Starwise
Archives
Links
About The Voice
Contact Us
Walking The Streets Of History: Making The D.C. Connection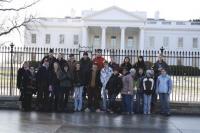 photo by Cookie Steponaitis

On the first full day of the trip, the students began with a White House tour and continued on to the Library of Congress, National Archives, Bureau of Engraving, Holocaust Museum, the Washington Monument and a show at the Kennedy Center of the Performing Arts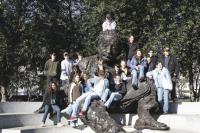 photo by Cookie Steponaitis

Taking a break, the students hang out with Albert Einstein.
Tuesday January 19, 2010
By Cookie Steponaitis
The unusually bitter cold temperatures made the students feet move faster but did not quell the enthusiasm or wide-eyed wonder of the past weekend. The sophomore history trip to Washington, D.C. by twenty-five students from VUHS was one of connecting to and honoring America both past and present. The trip occurs every other year and takes sophomore U.S. history students to the nation's capital on a packed two day tour that includes the White House, Holocaust Museum, Capital Hill, Washington Monument, Tomb of the Unknown Soldier, Arlington National Cemetery, Kennedy Center, National Archives, Library of Congress, Lincoln Memorial, Bureau of Engraving and Printing, the Newseum, the War Monuments, and the Smithsonian Art and Space Museum.
While the pace of the trip is hectic, the learning curve is also powerful. Each student sees, hears and learns about the people, places, documents and events that have shaped the development of the nation's capital and in turn the lives of Americans. The students were collective in expressing their awe of the events of the trip, but divided on the most powerful experiences. Sophomore Steven Sickles remarked, "I had a lot of fun on the trip to D.C. and anyone who gets a chance should go, but the most powerful place was by far Arlington Cemetery and the Tomb of the Unknown Solider. It is impossible to leave that sight and not be impacted by the commitment and sacrifice of generations that have gone before." Mary Kittredge also was moved and remarked, "To gaze out at Washington from the top of the Washington Monument was incredible, but for me the moment came when I stood where Martin L. King, Jr. delivered his I have a Dream Speech. It simply moved me emotionally."

The students in addition to focusing on the heritage and history of their nation also attended a show at the Kennedy Center for the Performing Arts. Sophomore Erika Evarts smiled as she remembered. "My favorite event was the Kennedy Center show. To be in that venue and in the front row for a live play was remarkable. They involved us in the show and we were holding our stomachs we laughed so hard. The play interwove politics, world events and humor into the mystery that was played out before our eyes. In the end, the audience voted on which suspect was guilty triggered the ending the actors would use."

The trip could not have been possible without the generous support of American Legion Post # 14, Ferrisburgh Historical Society, Women of Wisdom and Neat Repeats. Once again, the generosity and support of the community, families and local business helped the students raise the funds needed for the trip. Each came away with a greater sense of the history of the nation and their own role as citizens in the American democracy.


---
---
Related Stories:

· Sharing A Life Long Passion For Learning: Mrs. Cathy Spaulding

Advertisements
Search our Archives