Main Sections
Front Page
Sports
Valley Vitals
It's in the Stars
Starwise
Archives
Links
About The Voice
Contact Us
11th Annual "Face Off Against Breast Cancer" Tournament to Be Held in Middlebury January 23rd and 24th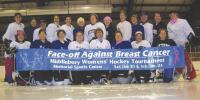 photo provided
Tuesday January 19, 2010
The Middlebury Otters and the Middlebury Mystix, two women's community ice hockey teams, proudly host the 11th annual "Face Off Against Breast Cancer" hockey tournament on Saturday and Sunday, January 23 and 24, 2010, at the Howard Brush Memorial Sports Center in Middlebury.

Bigger and better than ever, the tournament has expanded to a two-day format with three women's divisions (competitive, recreational, and novice) and well as a "Friends and Family" division. Overall, the event includes twelve women's hockey teams from all over Vermont, competing in games throughout both days, with ongoing hospitality and refreshments in the Warming Hut. Visiting teams include: Burlington Ice Breakers, Green Mountain Thunder, Vixen, Tsunamis, Waterbury Wicked, Manchester Rusty Blades, Rutland Cutting Edge, and Barre 32 Degrees.

The Tournament weekend includes a fun-filled benefit concert and after-party on Saturday night, January 23 from 9 pm to 1 am. Local favorites "The Horse Traders" will play covers and original rock tunes at Two Brothers' Tavern on Main Street in downtown Middlebury. The Horse Traders and Two Brothers' Tavern have generously offered to donate the performance, all the proceeds from the cover charge that night, and 10% of all the sales at Two Brothers' upstairs restaurant and downstairs lounge to the Face Off Against Breast Cancer.

Proceeds from the tournament benefit the Cancer Patient Support Program's (CPSP) Emergency Fund, which provides short-term, emergency financial relief to local patients in need. This important program addresses the hidden impacts that cancer can have on families: those who, because of cancer, have lost their jobs and may lose their car or home because they are in treatment; those who are too sick to work, or who have soaring medical expenses and limited co-pays; or those who have no insurance coverage at all.

The tournament was established in 1999 when a member of the Middlebury Otters was diagnosed with breast cancer. Fortunately, her survivor story is now a success. The need for support continues, however: the American Cancer Society estimates that over 190,000 American women will be diagnosed with breast cancer in 2010—480 in Vermont alone. Both the Otters and Mystix are proud to include breast cancer survivors on their rosters.

Last year's Face Off Against Breast Cancer tournament raised over $35,000, and the Otters and Mystix are hoping to break that record in 2010. Members of the team are requesting support in the form of individual player sponsorships, as well as business sponsorships in the amount of $25. Donations may be sent to the Cancer Patient Support Program (CPSP), c/o FOABC Committee /Cathy Chase, 5 Ledgewood Ct., Middlebury, VT 05753; or contact the tournament co-chairs to support a player near you: Liza Sacheli Lloyd (liza@middlebury.edu or 802-443-3169); or Cathy Chase (cathychasevt@gmail.com or 802-382-9469).


---
Advertisements
Search our Archives