Main Sections
Front Page
Sports
Valley Vitals
It's in the Stars
Starwise
Archives
Links
About The Voice
Contact Us
Sharing A Life Long Passion For Learning: Mrs. Cathy Spaulding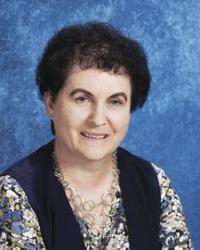 photo provided

Retiring in June of 2010, Mrs. Cathy Spaulding looks back on a career at VUHS impacting 4000 students.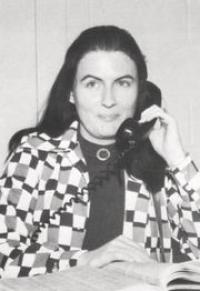 photo provided

Caught on the office phone in 1978, Cathy Spaulding paused a moment in her busy school day. There was only one phone line for faculty then and it took a while in line to get to use it.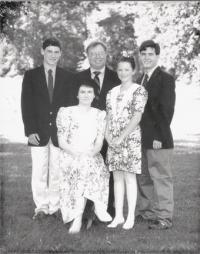 photo provided

The Spaulding Family: Joe, Cathy, Jeremy, Jeffrey and Jennifer at her in-laws 50th anniversary.
Tuesday January 19, 2010
By Cookie Steponaitis
Cathy Spaulding was in the eighth grade when she remembered first, "…getting serious about knowledge for knowledge's sake." She would read a book by an author and then read the rest of the author's works. She was also fascinated by history- from ancient to modern. "With a love of languages, music and art, it seemed natural to become a teacher," recalled Cathy Spaulding. "Of course it didn't hurt that my mother and three older sisters were teachers. Two were elementary teachers and two were in high school."
Now many years into her career as a teacher, Cathy's love of learning has not dimmed, nor has her passion for acquiring more. "I graduated from Trinity College (VT), that wonderful college that so wanted everyone to have an opportunity to go to college that the costs remained extremely low and they eventually had to close," she shared.

"My major was in history and my minors were English and education. I took 6-7 courses every semester – there were so many wonderful classes to take. I started on a History graduate program at UVM, but then marriage to an Air Force officer intervened. I received a master's degree in English from St. Michael's College, VT, and I have taken over 100 credits since – that knowledge is still out there." In fact, Cathy's passion for learning took on unique aspects in her career. While most teachers carry one concentration or endorsement for licensure, her endorsements include Elementary Education, English, Reading, Social Studies, and Teaching English as a Second Language.

Cathy arrived at VUHS to be a teacher's assistant in 1975.She also worked in the Superintendent's Office, the VUHS library, the Main Office and as an assistant for Special Education. She taught seventh and eighth grade reading and Junior High exploratories in French, Logic, and creativity. She helped established several of the junior high and middle school model used in the development of the program and moved into the high school where she has taught regular English grades 9-12, and World, American, and British Literature. She also has taught the following elective courses : Media, Speech, College Composition, Shakespeare, Short Story, Visual Lit, Voices, Creative Writing & Skills in Communication.

As in all walks of life, Cathy has witnessed vast changes in curriculum, structure, schedule and educational pedagogy during her career. When asked about all of these changes and developments she felt that the most critical change centered on the placement of students in classes. While there used to be tracking and concentrations like college preparatory, business, vocational and leveled groupings, the newest movements are toward heterogeneous classes in which all levels of interest and achievement are found. "When I first started at VUHS," Cathy remembered, "I had an activity group or club called Volunteer Action Club (VAC) which partnered with the Shannon Street School for learning disabled students in Middlebury. It was incredibly humbling to watch my high school students work with those LD students – we celebrated all holidays with them, took them bowling, etc. and it just allowed the high school students to discover that everyone can learn – each in her/his own way – and that 'We are all one race –human.' (Helen Keller) On a lighter note, I had a Media class that once made a movie as a culminating activity. It involved an escape out of our classroom window – try explaining that to the principal who happened to be looking out of the cafeteria window at the time! VAC also did a 24 hour 'rockathon' for the March of Dimes. Fran Allo finally " led me to the nurse's office for a much needed nap" All of the experiences were special and life changing because for a teacher, the focus is always the student.

While many have come and gone the faculty at VUHS has always remained strong and consistent. The sense of family was one of the key points in her choosing to remain at VUHS for the long term. She remarked, "VUHS's uniqueness has sprung from its family atmosphere. We take care of each other, and help each other through our greatest joys and tragedies whether it be school connected or personal. The kids are great and represent a diversity of social classes, races, learners, and backgrounds. Now, I am teaching children of my former students. I decided not to stay for the grandchildren." Life long residents of Vermont, Cathy and her husband Joe and children Jeremy, Jeffrey and Jennifer thrived in the unique lifestyle that is Vermont. As children, Jeremy and Jeffrey were both in Joe's Boy Scout Troop and Jennifer was in her mom's. Growing up with a strong sense of community and family, the community service component was always present and a part of the Spaulding family tradition.

While volunteerism has always been a hallmark of Cathy's life and her family's, her future plans after teaching include still more involvement. "The Guardian ad Litem program uses adults to mentor teenagers who are in trouble with the law or have to deal with the justice system and need someone to be a constant advocate for them. I'd love to run a used book store, the kind where I can have plenty of time to read and which is a comfortable place to come with a kids' corner, a reading area with comfy couches and coffee and tea, and no rush. I have been a Board of Civil Authority member in Charlotte, Middlebury, and now in Shelburne, which is a combination of a justice of the peace and also a grievance and tax abatement decision maker. I was a Kappa Delta Gamma member which is a national teachers support and community service organization and a Girl Scout leader."

Cathy smiles and offers the quotations that have guided her path with students all of these years to all the new teachers entering the field. "Never settle for less than your best and Today's preparation determines tomorrow's achievement." She also reminds all to remember the value of compassion and empathy by putting themselves in the other person's shoes and looking at things from their point of view. "It's been a long ride," she reflected, "half a lifetime and I've survived as a member of the VUHS faculty and staff, a widow, mother, and the youngest of six children in a boisterous Irish/French Vermont family, but what a wonderful journey." The faculty, staff and over 4000 students of Mrs. Spaulding's career salute her dedication, her high standards and her drive to make connections for all of her students. This reporter sat in her classroom over thirty years ago and aced freshman college English as a result. The power of one person, magnified across the years leaves an indelible mark on all of us. Congratulations and smooth sailing ahead, Mrs. Cathy Spaulding.


---
---
Related Stories:

· Walking The Streets Of History: Making The D.C. Connection

Advertisements
Search our Archives