Main Sections
Front Page
Sports
Valley Vitals
It's in the Stars
Starwise
Archives
Links
About The Voice
Contact Us
2009 Northeast Regional Youth Rowing Championships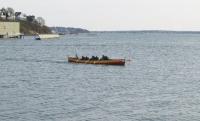 photo provided
Tuesday December 8, 2009
By Dennis West
Boston celebrates St. Patrick's Day. It celebrates Patriots Day. They even celebrate the Boston Tea Party. Now they have a new celebration called "VERGENNES DAY". The VUHS Rowing Team headed to Hull, Ma. on Saturday for the New England Youth Rowing Championships. Over 230 students from eight different states competed in the round robin style event. VUHS had two teams entered in the various categories. The team of Ashley Erikson, Jarrett Clark, Ethan Baldwin, Max Campano, Robert Burbo, Jesse Bunde, Dan Averill and Dale Erikson were entered in First Six-Oared Division. Here they had three races which would determine the days overall winner. They proceeded to win all three heats by more then one minute which made them the overall Champions and the Best in New England.

Their next race was the Ken Donovan Nautical Mile. After a crash and bang
start the team mustered all the muscle and skill they had and rowed to yet another first place finish. The second team entry of Dale Erikson, Jesse Bunde, Kelsey Dobson and Chelsea Rosswith fill-ins from Burlington High School raced in the four oared division.

Again, racing in the round robin style event to determine the overall winner, the Vergennes group won two of their three heats. After combining all three times together the Vergennes groups came out with the overall fastest time and were division champions as well. Congratulations to all for a fun and enjoyable day of racing!!
---
Advertisements
Search our Archives