Main Sections
Front Page
Sports
Valley Vitals
It's in the Stars
Starwise
Archives
Links
About The Voice
Contact Us
J. P. Carrara & Sons Open House Shows Impressive High-Tech Capacity for Making Longlasting Concrete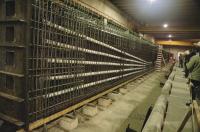 photo by Ed Barna

Sidewalk superintendents inspect the last bridge support.
Tuesday November 17, 2009
By Ed Barna
There they were: the 240-foot-long supports that will take the center of the new Cross Street bridge over Otter Creek.
Visitors to the J. P. Carrara & Sons open house on Oct. 30 not only got a preview of five of the six prestressed, reinforced concrete sections that will be the backbone of the Cross Street span (480 feet in all, with four of them 120 feet long), they got an eye-opening look at a manufacturing operation many had no idea existed locally.
Along the walk from the parking lot to the massive building that sheltered the bridge part making, there were dozens of big, big bridge and road components, waiting to be shipped out. No one who went will ever see an Interstate highway the same way again, and everyone who saw the extent of the Carrara facilities will wonder how many times they have driven over the company's workmanship already.
But this was not a case of simple, large-scale "industrial" production. In many ways, the most remarkable sight along the tour came at the end of the fabrication building, where the sixth Cross Street support was still taking shape.
There was no "form" awaiting poured concrete, as may be observed during the early stages of many building projects. That would come later. Instead, the shape of the final product was clearly discernable as a maze of reinforcement bars and interpenetrating white plastic tubes—at such a concentration that calling the finished product "concrete" would be true only in the sense that it won't be abstract.
Some of the metal rods were painted—coated with a durable enamel,
said Jim Muller, who was serving as guide in that area. Any reinforcement
bar (rebar, to those on the job) that is likely to come in contact with salt gets that treatment, he said.
Muller is not an employee of J. P. Carrara, but has been contracted to serve as quality assurance officer. That means he checks what has been done to make sure it meets government specifications—another reason for travelers to feel safe crossing the new bridge.
In practical terms, Muller said, "I have to crawl all over it, measuring every one of them," pointing to the unfinished bridge support's rebar. "It drives you crazy," he said--and drivers stay safe.
Don't feel sorry for the unenameled rebar. Muller said that for every cubic yard of concrete that gets poured into the form surrounding the bridge part (the form has to be made, too), a large quantity of anti-corrosive material gets added.
All around Vermont, there are crumbling yellowish concrete bridges that date from the 1930s, when workers for the anti-Depression stimulus program known as the Works Progress Administration built them. They're still
spanning small streams, more than 70 years later.
How long the J. P. Carrara bridge parts will last is anyone's guess. Suffice to say, no one who sees the Cross Street bridge go up is likely to see it come down.
The white plastic tubes: Muller said each will contain 19 or 21 steel cables. These will be stretched, then concrete will be poured both inside and outside the tubes, then once the concrete has set the tension will be released, so that the concrete achieves greater strength through compression.
It was reassuring to know how much knowledge, experience and technical expertise has gone into building something that from the outside will look as if it's just a whopping piece of concrete.
Much of the rambling J. P. Carrara & Sons site was not on view, but it was clear that the company itself is one of their most amazing creations. At a time when "infrastructure" has entered the common vocabulary, as one of the few routes out of the Great Recession, it's good to know that Middlebury is drawing economic strength from a first-class infrastructure contractor.
So far, no one has said anything about Carrara producing spans for a replacement for the Champlain Bridge and its deteriorated unreinforced concrete piers. But stay tuned.

---
Advertisements
Search our Archives