Main Sections
Front Page
Sports
Valley Vitals
It's in the Stars
Starwise
Archives
Links
About The Voice
Contact Us
Where School Spirit Roams the Halls: Homecoming at VUHS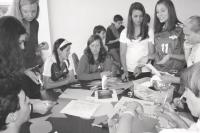 photo by Cookie Steponaitis

In a large space like a school add 683 students, an unbelievable amount of cardboard, paint and tape, face paint, school spirit, rival soccer games, a bon fire, a dance and a lot of energy. Stir, simmer and watch it over flow into Homecoming 2010
Tuesday September 22, 2009
By Cookie Steponaitis
Like a force of nature school spirit had been building all week at VUHS. One day superheroes roamed the halls while another found people adorning costumes of twins. Friday was blue and white day and all the while conversation flowed about bonfires, dances, soccer games and floats. Yet another visible sign of the change in seasons has arrived in the form of homecoming week.
While homecoming is a relatively new feature to the landscape at VUHS and only reappeared in the schedule during the 1990's, the idea of celebrating harvest, fall and school spirit goes way back. "For many decades," remarked retired VUHS teacher Ann Sullivan, "there was a harvest dance. It was put on by the FFA and included celebration of the fall harvests and a semi-formal gathering at the school." Traditionally associated with football, the VUHS Student Council reintroduced the tradition at VUHS during the 1990's and it has been a part of school spirit and community building ever since. Beginning with a spirit week and continuing with a Friday afternoon float building that goes on long into the night, each class earns spirit points and bragging rights to a win in the float parade. The theme this year was films and four hay wagons were transformed into scenes from Willy Wonka and the Chocolate Factory, Harry Potter, Star Wars and The Little Mermaid. Students gathered on Friday night for a bonfire under the watchful gaze of the Vergennes Fire Department whose representatives that evening were all VUHS alumni, and paraded through town with a police escort on a crisp autumn morning. Rounding out the weekend was an action packed series of soccer games against rival Mt. Abe and a dance with hundreds in attendance.

Students were asked to express how the fun of homecoming is unique to each individual and a common thread of friendship and spirit appeared as a theme in each response. Sophomore Emily Magoon remarked, "I love the float building. Seeing all the different ideas is great and I work with other students I hardly ever see." Collin Babcock joined in with, "This is my first Varsity home game and it is against Mt. Abe. Who can't be excited about that?" Similar thoughts were also shared by diehard soccer player Kenadi Dattilio who remarked, "Playing and winning against Mt. Abe is what it is all about."

As the clock moved closer to midnight on Saturday and the last remnants of the floats, dance decorations and weekend activities were cleared and the pristine appearance of the fields and gymnasium restored, it would be easy to dismiss the event as simply one of revelry and high energy. Reflecting about the weekend, junior Jennifer Cunningham put it all into perspective with her thoughts, "I love this weekend of events," she shared. "The floats, the games, the dance it is all about everyone being together and being proud of our school. It makes it our home."

Homecoming is one of many school traditions that link students, teachers and community in a bond that goes beyond a diploma and a graduation. It records yet another passing of the season, a movement up in class ranking and growth, and a celebration of growing up in Vermont and Addison County where the people, the land, and the seasons move in concert as one.
---
Advertisements
Search our Archives