Middlebury Stops Mt. Mansfield at So. Burlington 13-7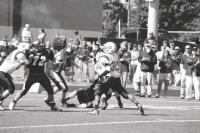 photo by Mike Cameron

photo by Mike Cameron Tiger all-purpose back Jerry Hoffman #30 looks long as Mt. Mansfield Cougar defenders Jacob Hall #72, Jack Bromley #65 and Alex Shinoski #42 are held in check by Tigers #68 Austin Quesnel and #44 Bryan Ashley-Selleck during first quarter action in Middlebury's come from behind win 13-7 over the Cougars at So. Burlington on Saturday September 19th 2009. The Tigers are now 2 and 1 on the year and are in third place in Division 2. They will play Champlain Valley Union at Hinesburg this coming Saturday at 1 p.m.
Tuesday September 22, 2009
By Mike Cameron
Middlebury notched a nice come-back victory over a hard hitting Fair Haven Union High School Team by a score of 14-6 a week ago. Mt. Mansfield came out on the short end of a 98-point shoot-out with North Country. 98 points in a high school football game has to be some kind of a record. It was North Country 54 and Mt. Mansfield 44. The big question seemed to be, did anyone play defense in that one?
None the less, the Tigers do not have a habit of taking teams lightly and they were ready to meet Mt. Mansfield's explosiveness in typical Tiger fashion….head-on! This contest was played on the artificial surface of South Burlington High School as the school will be hosting MMUH until such time as they (the Cougars) build their own game surface.

Coach Dennis Smith of the Tigers had to be pleased with the way his club made the adjustments to contend with a scrappy Slater team after playing sluggishly early in that contest. The Tiger defense is starting to take shape and they could be a very difficult force to deal with as the season progresses. Pass defense continues to be an issue with Middlebury's aggressive style of play but that can shore up quickly with some game experience as sophomore Marshall Hastings demonstrated against Fair Haven in game two.

The Cougars wasted little time in probing deep on Middlebury and they lit the board first when MMU quarterback TJ Wesson threw a bullet to tight end Tom Lacy who made two nice moves in the secondary to open his route to a touchdown. The kick was good…yours truly retrieved the ball for the ref and the Cougars were up and running with the momentum 7-0 at 3:19 left in the first half. Both teams had chances in the first half but mistakes and big plays stopped the drives.

The third quarter was a stand-off with the Cougars running back Ian Shaw grabbing big chunks of yardage with speed and quickness and the Tigers fullback Kayden Odell ripping up the middle with power and determination. But both defenses were there to make key stops when they were needed. No one could break out for a scoring drive.

The 4th quarter saw Middlebury make some great plays with their defense and special teams and the offense began to click on key their down plays. Quarterback Brendan Burrell threw a 16-yard strike to Jerry Hoffman at 11:54 of the 4th quarter to make it 7-6 and the visiting Tiger fans were ready for the equalizer which was booted through for a 7-7 tie. Mt. Mansfield was still clicking offensively but they could not get two good plays in a row for big yardage thanks to excellent Tiger coverage up front and in the secondary.

The Tigers got the go-ahead score at the 5:20 mark of the 4th quarter with a nice 31-yard halfback option pass from Hoffman to Ryan Foley. That score put the Tigers up 13-6 but the kick failed and Mt. Mansfield still had a chance to tie or win. They could not muster the offense to get it done as the Tigers were able to stop them and put the game away…winning 13-7 to move to 2-wins and 1 loss on the season.
---