Main Sections
Front Page
Sports
Valley Vitals
It's in the Stars
Starwise
Archives
Links
About The Voice
Contact Us
Front Porch Sitting with Martin Casey: Sharing Memories of Addison County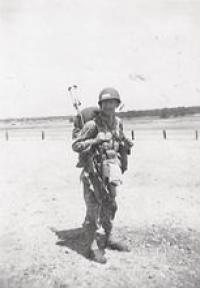 photo provided

Martin Casey as a soldier.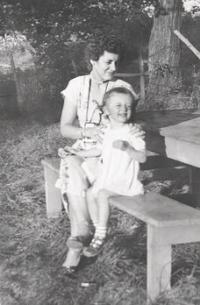 photo provided

Wife and Child. Married for 63 years, Sylvia Casey and their oldest daughter Pam.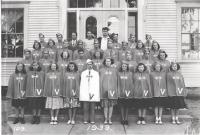 photo provided

VUHS Drill Team 1939
Tuesday September 22, 2009
By Cookie Steponaitis
While country western star Alan Jackson has never been to Vergennes, Vermont and never had the pleasure of meeting Martin Casey, his lyrics suggest more about the area than he can ever know. In his hit Where I come from, Jackson writes, "Where I come from, a lot of front porch sitting: Where I come from; people trying to make a living; where I come from." Rooted in those lyrics and in the memories of Vermonter Martin Casey, it is easy to see the intertwining of the visible threads of community, work and faith that are the backbone of the generation calling Addison County their home for more than eighty years.
Martin Casey was born on what was then North Water Street (now McDonough Drive) in his grandparent's home. Living in the same home that three generations of Daniels and Caseys had before him, Martin was raised with a deep sense of history and connection to Vergennes. His great- grandmother was Philomene Daniels, who by all accounts was the first licensed female steamboat captain in the world and his grandmother Helen Lavigne Daniels was the second. While completely opposite in size and temperament, both women made strong and lasting impressions on Martin as a boy, along with the family business that had been operating on the banks of the Otter Creek since June 10, 1880.

Now "Captain Lou" Daniels, as he was known to the townspeople was always seen hard at work with his wife at his side. His business the Daniel Steamship Line transported mail, cargo and passengers on the Otter Creek and across to Westport, New York Philomene was not the homemaking type but was dressed in the latest fashions from New York City. Her determination, feisty nature and her husband's trust in her abilities began to earn her notice around town for her skills on the boat. Captain Lou and Philomene had two sons, Mitchell and Fred. Both boys were raised on Otter Creek and learned the twenty-seven channels that were taken in traversing Otter Creek from the docks in Vergennes to Fort Cassin, near the mouth of the lake. By 1897, with increased demands and the beginning of excursion travel, the Daniels needed to expand again. During that winter in a shed along side the house, Captain Lou built the steamer The Victor. The steamer was 63.2 feet long and could accommodate 275 passengers and with all three ships on the river, Louis needed help. It came from an unpredicted, but colorful source, his 42 year old wife Philomene.

Philomene had a good strong constitution and was known for saying that, "She was as good as any male on the river." She could perform any task on the boat but stopped short of being the engineer because she would not wear pants. She was "…a lady, you know" and there were limits. Encouraged by Louis Philomene presented herself at the Coast Guard Station in Burlington, Vermont and stated that she wanted to test for her license. At first amused and then alarmed the Coast Guard suggested she go home. Philomene reminded them quite forcefully that, "It was her right to test, and she wasn't going home until she did." Not only did she pass her test with flying colors, but in 1887 the May 5th Burlington Free Press called her, "…undoubtedly the first woman to receive a pilot's license in the country, if not the world.

While the Daniel's line ended before Martin's birth, he openly recalls his great-grandmother and her intense nature. "Philomene was an intimidating person to me as a child," Martin recalled. "She was very direct and while I wouldn't say I was scared of her, I gave her a lot of respect and space. On the other hand, Grandma Helen was the opposite. Tiny, demure and a consummate housekeeper, she was as warm as Captain Philomene was serious." Walking the main streets and the Otter Creek Basin as a child, Martin was quick to sense that there was a social strata present in society, but found that he and his family had a way around that. "My parents were gregarious people," he commented, "and whether you were addressing the town drunk on his way home from a late night or the parson's wife everyone was addressed with respect. Manners in the Casey house were the rule of the day. Many people always commented to my parents that we showed respect to each person in town and were never refused from any home."

Graduating from Vergennes High School in the pivotal year of 1941 in a class of 51 students and immediately enlisting in the service, Martin has traveled much of the world and seen cities and natural wonders a plenty. When asked to share what about Vergennes drew him home and kept him here all these years, Martin simply smiled and remarked, "I saw enough of the world to know that what was important in life could be found right here. Now I am not saying that like all youth I didn't dream of moving to the biggest cities, but after seeing a lot of it, I gave it no more serious thought." Many interviews and articles have been written documenting Martin's career in the military and the battles in the European and Pacific fronts he was involved in. After coming home for a brief thirty day leave when the Nazis surrendered, Martin was again shipped to the west coast and was aboard a ship bound for Japan when the first atomic bomb was dropped. His tour of duty continued in the Pacific for another eight months and finally brought him back to the Little City in 1946.

Openly admitting to having had a huge crush on Sylvia Yattaw in high school, Martin openly courted Sylvia upon his return to the Little City and the two were married in August, 1946. Living first in the family homestead on the banks of Otter Creek, the couple eventually built a house on New Haven Road where they raised their four children, Pam, Cindy, Tom and Patti. As the family grew and changes came to Vergennes, Martin was involved at many levels and different junctures. He was one of the original founding members of the Lions Club, a part of the Opera House renovation project and served in many offices including City Clerk and Treasurer. Many people also know Martin from his lifetime membership in American Legion Post # 14, where he held most of their positions and was post commander four different times. Entering his 63rd year of marriage, Martin has the unique venue of looking at the town and country he calls home through his memories and another valuable treasure, photography.

"I was somewhat of a camera buff growing up and as an adult," explained Martin. "In the basement I have thousands of images of Vergennes, the surrounding area and lots of people. In past years when buildings are being renovated and people are digging around for photos of what it looked like back in the day, they find I have some kicking around somewhere." With all of these memories, photos and stories to tell about his home town, it still was easy for Martin to pick out those to share that illustrate what makes Vergennes and Addison County such a special spot. "The first myth that has to go," Martin chuckled, "is that the town is one mile square. It simply is not. Officially it is 400 rods east to west and 480 rods north to south. That averages out to about 1.8 square miles." Of all of the growth and changes that have occurred in the area, Martin points out that ironically the impetus to save Vergennes has been largely driven by a collective effort of local people and immigrants who have come to the Champlain Valley and treasure its unique heritage. Delighted with the up and coming generation, Martin points to their charitable works and devotion to community service as a wonderful attribute.

One interview was hardly enough to scratch the surface of the collective memories and wisdom that Martin offers to those willing to sit a spell on the front porch and be transported back to a time not so long ago when the Little City was different in appearance, but still full of the same devotion to people that characterizes it today. Martin recommends visiting to anyone with the time and sees that each generation to call this place home is very lucky indeed.


---
Advertisements
Search our Archives