TIPS Worth Taking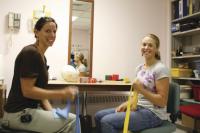 photo by Mike Cameron

LtoR Occupational Therapist Michelle Checklick works with West Rutland High School Senior Marissa Smyrski a member of the TIPS program. Marissa says that she "enjoys the interaction with patients at RRMC," and is contemplating a career in the health care industry after graduating from college.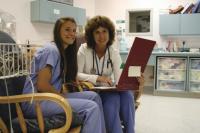 photo by Mike Cameron

LtoR Sarah Hawkins, a Junior at Black River High School in Ludlow looks over notes and data with Mona Rickert R.N. at RRMC's Newborn Nursery. Sarah says that she finds her TIPS experience "Amazing. I like it so much. The hands-on interaction is very special for me." TIPS Program Coordinator Cathy Pratico R.N. introduced The Valley Voice to this exceptional program.
Tuesday August 4, 2009
By Mike Cameron
When local Vermont businesses take the time to fully understand their true needs it can be a sobering and even frightening experience. Where will they be in the years ahead and what will their needs be then, moreover what will be the needs of the people they serve?
Like everyone else, Vermonters continue to be constantly bombarded by the news of the day in more ways than ever before and from more sources of information that ever thought possible in years past. Much of the current news cycle is negative especially as it relates to business owners and investors who are struggling to keep their businesses poised for a recovery from the current recession.

Meanwhile some of the nations most prestigious firms, many bearing the coveted Fortune 500 seal of approval have failed miserably and taxpayers who are being further decimated by this mind boggling display of mis-management are being forced to bail them out via Federal mandate.

In the midst of all of this negativism and inertia, a breath of fresh air continues to flow through the Green Mountains of Vermont. It won't solve all of our economic problems today but it has produced some giant steps towards preparing young women and men to meet future problems in the economic and resource challenged, post 9-11 workforce.

TIPS is an emerging acronym that Vermont businesses and industry are paying much closer attention to now than ever before and with good reason. TIPS (Training Interns and Partnering for Success is part of the Rutland Region Workforce Investment Board. The RRWIB motto explains their mission, "Business Growing out of Education." It is a state-wide organization.

According to their brochure, "Throughout Vermont regional workforce investment boards like RRWIB are partnering to expand TIPS to a greater number of high school students and businesses. Included are Boards in: Chittenden County, Franklin Grand Isle, Upper River Valley, Bradford, Central Vermont, Bennington County and Rutland County."

"In Rutland County, the RRWIB has recruited high schools and business partners willing to host interns and offer employment. Businesses partners include all members of the RRWIB as well as other interested organizations."

RRWIB is a non-profit organization working to improve educational and employment opportunities for students. Through its Council on Youth, the RRWIB offers programs including community-based learning for students, supported job placement, mentoring, and the opportunity to take college courses during high school. They play an important roll connecting local schools, organizations, and businesses to create real life learning opportunities.

Rutland County Program Coordinator Cathy Practice is a full time RN at Rutland Regional Medical Center. In a recent interview with The Valley Voice, Pratico explained that TIPS offers both student and employer benefits. "Students can develop job skills in a chosen career area and earn school credit." She went on to explain that learning work terminology, work climate and business and industry protocol is an integral part of the program. "They can work with adult role models, learn how to make informed decisions and have a much clearer understanding about future career and work opportunities. Many TIPS students search out summer employment possibilities. The feedback from the TIPS program has been positive and dramatic.

We asked about the employer benefits and employer interest. "It has been very positive and we have a wide range of interested businesses from the healthcare industry to manufacturing, just about every section of the economy. It gives employers the ability to assess how students fit into their particular business from a high quality intern to a productive full-time employee with a good income and benefits," Cathy explained further.

The program has produced positive publicity where ever it has been established and the community involvement has been growing each year. "This can stem the tide of bright, gifted, well trained young Vermonters leaving the state for jobs in other parts of the country," Practico went on to point out.

The program began in 2004 in Burlington when TIPS began a partnership with Ben and Jerry's Ice Cream as part of the LLL (Linking Learning to Life program) to train students for jobs in their scoop shops.
The concept has taken on a life of its own here in Vermont. More students have been introduced as the years have progressed and many more Vermont businesses are discovering that being advised to invest in these talented young high school students are indeed TIPS worth taking.

For more information on TIPS you can reach Cathy Pratico at 1-802-779-5524 or 1-802-775-0706 e-mail [email protected]

---